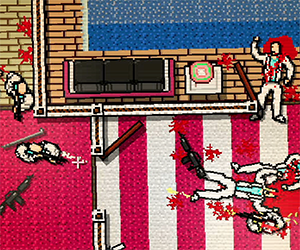 Get your latex animal masks ready, uber-violent PC hit Hotline Miami is coming to Playstation 3 and PS Vita.
Dennaton Games's Jonatan Söderström and Dennis Wedin are overseeing a port being made by Dutch studio Abstraction Games.
Taking place in 1989 Miami, the game follows the murderous exploits of a troubled young man and has sold over 300,000 copies since its autumn launch.
The game will support cross-play, meaning you can play the game on both the home and handheld devices with only a single purchase.
It is coming to the Playstation Network this Spring.
You can watch the announcement trailer below.