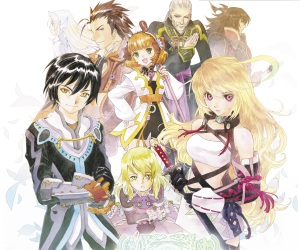 Tales of Xillia has been released in Japan since September 2011 and thankfully, North Americans and Europeans will be getting the PS3 exclusive later this year. We're still not privy to an actual date, but Namco Bandai has sent us on some information about the upcoming  RPG.
The publisher claimed that graphics are at an unprecedented level for the series, thanks to the team's collective knowledge over the last fifteen years. The "Dual Raid Linear Motion Battle System" (snappy name) has been advanced, allowing players to create on-the-fly tag-teams and choose to defend, attack, or support with a tandem. On top of that, players will be able to sub party members with other members that are sitting on the proverbial bench.
While you're rocking a tandem, a gauge called "Linked Artes Gauge" will begin to fill. Once full – or full, to a certain extent – the gauge allows characters to break out some special attacks
The choice of two character story arcs allows players to immerse themselves within two storylines, wherein some events will be exclusive to the particular character you play as.
The only thing we're missing is a release date, of course. Hopefully an announcement will be coming sooner, rather than later.
Tales of Xillia will be released in 2013 for PlayStation 3