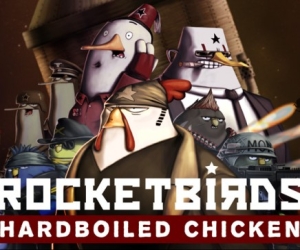 Ratloop Asia's side-scrolling action-platformer, Rocketbirds, will be available to download from PSN from Wednesday February 13.
Released on the PlayStation 3 last year, Rocketbirds is the story of the titular Hardboiled Chicken, a clucking secret agent with a penchant for shooting and sleuthing, whose mission to bring down an evil dictator has garnered some much-deserved critical acclaim since its release. You play as the Chicken himself, hell-bent on overthrowing the nefarious penguin tyrant whose evil regime has the city of Albatropolis in a choke-hold.
This being the Vita port of an established game, Rocketbirds: Hardboiled Chicken will feature a host new puzzles and features to make use of the handheld's various functionalities, such as tilt-screen effects. The graphics have also been spruced up, and the game now features online and ad-hoc co-op modes.
Players who already own the game on PlayStation 3 will not only receive a discount when buying the Vita version, but will also be granted access to two new co-op playable characters, Sniper Budgie and Agent H (modelled on the lead singer of New World Revolution, the band behind the incredibly catchy theme tune).
Check out the trailer for Rocketbirds: Hardboiled Chicken below.
Rocketbirds: Hardboiled Chicken will be available to download on the PlayStation Vita from Wednesday February 13.