Relatively young studio Spiders Games have been busy-busy-busy over the last few years, helping Cyanide along with the development of green-skinned hack 'n' slasher Of Orcs and Men, creating their own downloadable IP in the form of Mars War Logs and now this, Bound by Flame, a brand new fantasy RPG due "towards the end" of 2013.
Set in a dark fantasy universe, Bound by Flame casts you as a mercenary possessed by the spirit of a malicious fire demon. You'll be able to choose whether to accept the offers of power from your unwelcome host (usually earned by nefarious deeds) or attempt to throw off the shackles of possession and take a more noble path.
Three different skill trees (fire magic, combat and assassination) allow for the customisation of your character, and his appearance will change according to how much you align yourself with your parasitic passenger. Interestingly, chapters and events will vary based on your decisions, and a friendship system, a la Dragon Age, will dictate your relationship with your companions.
The first screenshot is below, introducing the Swamp Beast, one of many creatures to join a bestiary including dragons and the undead. This screen – coupled with the news that the combat is real-time and dynamic – makes us think of last year's excellent Kingdoms of Amalur: Reckoning.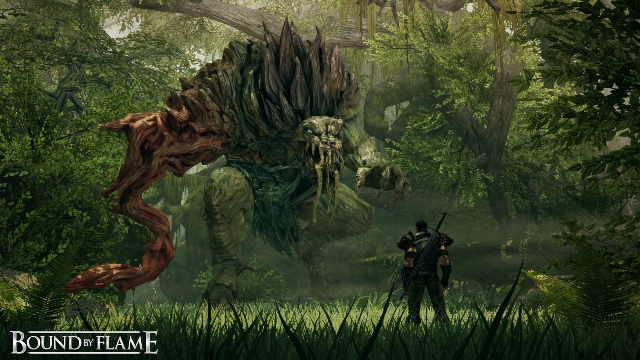 Bound by Flame is scheduled for release on Xbox 360, PlayStation 3 and Windows PC in Q4 2013.