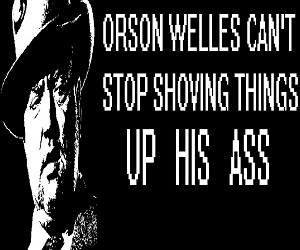 Today I discovered an indie title in the early conception phase of game design.
Currently listed at gamejolt.com, Orson Welles Can't Stop Shoving Things Up His Ass sits stoic and proud of itself among some actual indie hits, too good for screenshots. Or really any details, short of the following pitch:
"Orson Welles: film prodigy, fat **** extraordinaire. He's on a mission. Tonight, he sets out with one goal in mind, and that is to SHOVE EVERY DAMN THING UP HIS ASS."
Honestly, the game silently threatens to be the next great indie breakthrough.
But in all seriousness, I realize this is probably a joke posting made by some stoned film student at 4 am in the morning somewhere. Or maybe it's the work of an indie mastermind. I don't want to come off as presumptuous.
All I know is, it's worth watching (unlike Citizen Kane.) With enough support, maybe it won't be doomed to developer hell like the long awaited title, The Last Guardian.