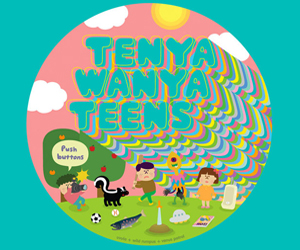 You know him as the mad genius behind Katamari Damacy and Noby Noby Boy, and now Keita Takahashi is back – with a brand new IP that looks just as daft and beautiful and colourful and intriguing as his previous works.
The excellently named Tenya Wanya Teens is set to be unveiled in all its glory at the Games Developers Conference in San Francisco next week, and from what we have seen thus far, it is set to take his wildly inventive approach to games-making to the next level.
Over at website Venus Patrol the game is shown being played by two people with giant customised arcade sticks seemingly featuring 16 buttons each – something even a dedicated fight fan like myself finds it difficult to get my head around.
Co-produced by Takahashi (Katamari Damacy, Noby Noby Boy) and Asuka Sakai of Uvula, Venus Patrol and Wild Rumpus, Tenya Wanya Teens is said to be a game "about trying desperately to not say or do the wrong thing at the wrong time."
"Tanya Tanya means chaos or panic (but it's not serious) in Japanese," according to a post by Takahashi on the Uvula website.
The game will make its public debut at the Venus Patrol/Wild Rumpus party at GDC and at the Experimental Gameplay Sessions on Friday, March 29 at 2:30pm. Venus Patrol says a version for players unable to attend GDC this year is in the works.