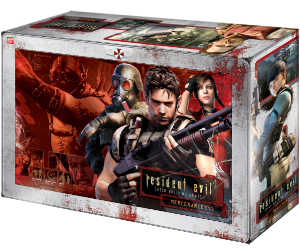 Game: Resident Evil Deck-Building Game: Mercenaries
Designer: Tylar Allinder
Publisher: Capcom/Bandai
Board games, of any description, have always been close to my heart. I grew up playing them with family members, perusing the aisles of local toy shops looking for the latest and greatest of them and begging my parents to take a copy home for us all to play together. As time went on, I moved more and more towards the realm of video games instead of board games, but I've long been looking for an opportunity to go back for a short time to my first love.
Recently, I was given the opportunity to have a look at the latest expansion to the popular Resident Evil deck-building game from Bandai and Capcom. This latest expansion, based around the various incarnations of Mercenaries within the Resident Evil universe, plays in exactly the same ways as the previous Resident Evil deck-building games, but gives the player new scenarios to play through and new cards to play with.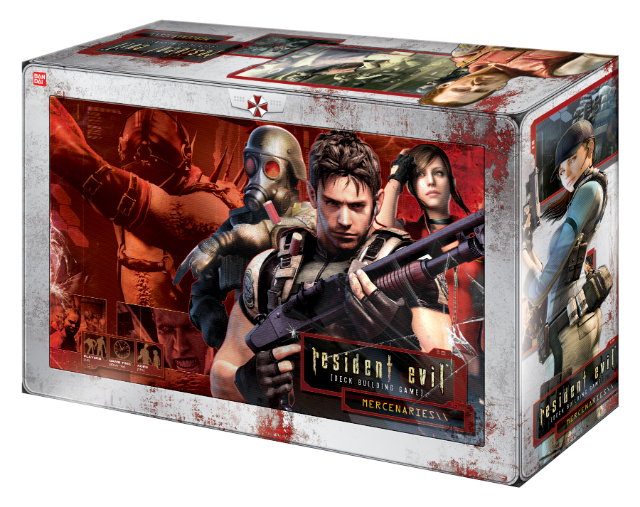 The first important thing to mention about Resident Evil Deck-Building Game: Mercenaries is that while it is considered an expansion to all the previous Resident Evil games of its ilk to come before it, it is actually a stand-alone expansion, meaning that players don't need to have bought or played the previous games in the series before they're able to play this newest one. The instruction manual that comes with the game, however, does assume that anyone reading it has played the game before. The language used is rather confusing for a first-time player, and I wouldn't be surprised if people took to YouTube, or various other methods, in an attempt to figure out just how they're supposed to get down to having fun with their new purchase. The positive aspect to that though, is that once one person works out how to play the game, it's very easy to remember and teach to other people. It's a difficult game to have its rules and small nuances put into words in an instruction manual/rule book, but sit down with someone who's played the game before and you'll have figured it out for yourself within a matter of minutes.
Setting up a game of Resident Evil Deck-Building Game: Mercenaries is as easy as picking a main character, setting up the basic setup and choosing one of the possible mansions. Then you just play the game to your heart's content until someone is crowned the victor. The mansions are sets of cards which hold all the zombies that you'll come across in whichever game mode you've chosen to play. As the players move through the mansion, killing zombies and taking names, they'll be awarded Decorations, with the tougher zombies awarding the player with more Decorations; the player with the most Decorations when the game comes to an end – when the "Boss" character (in this case the Red Executioner) is defeated – is the winner. The interesting thing about that is that the person who wins the game isn't always going to be the player who takes down the boss. It's small nuances like that which make the entire game a lot more entertaining to play than it would normally prove to be.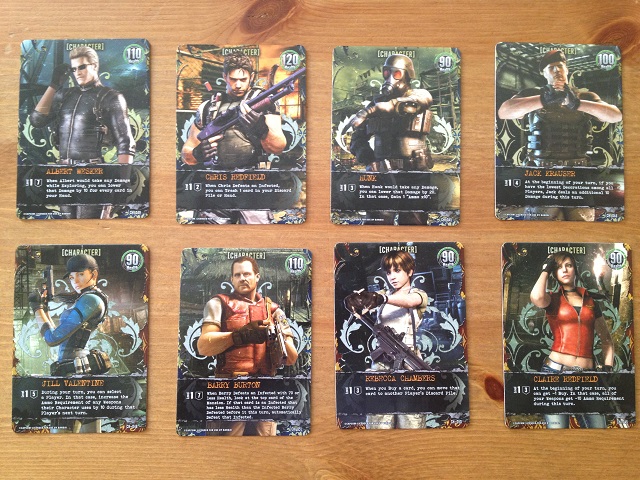 As players progress through the game, one of the most interesting things becomes obvious is that as you're playing you're essentially levelling up your character. This fact will be subtle, and you won't even notice that it's happening until you look at your deck later on in the game and notice that you've got a whole set of cards in your deck that's a hell of a lot more powerful than those that you started the game with. In each round you'll have a certain amount of gold that you can spend in the buying stage and, if you pay close attention to some of the special abilities of certain cards, you'll quickly be able to increase the amount of gold that you've got to spend in each round. At a certain point you'll find yourself purchasing some of the more specialised and high-powered weapons in the game, giving you a little bit more enthusiasm to go into the mansion and – hopefully – come back out alive and with some Decorations to add to your total count.
Something that particularly interested me was the fact that, if I had wanted to, I could have played Resident Evil Deck-Building Game: Mercenaries all on my own. There's not really going to be a winner if you're playing by yourself but if you just enjoy the game for the scenario that you're playing, and don't care about winning against other players, then there's no reason you can't play the game alone. That being said, if you've got a group of friends who are interested in card games, deck-building games or even just the Resident Evil franchise, then you're likely to find at least a couple of them willing to sit down and play this particular board game. You'll need to set aside at least an hour in order to get through the whole game (you could even half the size of the mansion in order to get through the game quicker if you wish) but if you've got the time, and the willing participants, then you're likely to find yourself having fast fun with this little number.
[nggallery id=1355]
VERDICT: So, is Resident Evil Deck-Building Game: Mercenaries something that you should be looking into getting? If you're a fan of card games and have friends that you can bring round for some zombie-killing fun with a few drinks, then there's no doubt that you should add it to your collection of board games. Everything within the pack is of a good quality and while the instructions could have been a little clearer, especially for people that have never played the game before, as long as you have one person in your group that has experience with the genre or the title, then the rest of the group will pick it up in a matter of minutes.
While it's a game whose rules aren't easy to nail down into text, it's one that's really simple once you've gotten your head around all of the small nuances. Should you add it to your collection? If everything I've said even appeals to you a little then yes. I know it will sit proudly within my collection, coming out often for a good old night of tabletop gaming for years to come.