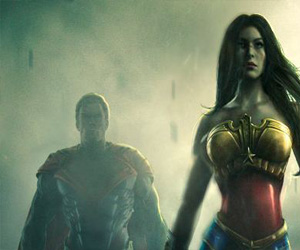 Green Arrow also takes on the curiously masked Hawkgirl in some punch-tastic gameplay footage of NetherRealm Studio's new fighter, Injustice: Gods Among Us.
The footage below shows off Injustice's dynamic arenas in full effect, particularly in the Green Arrow vs. Hawkgirl match.
See walking beard easel Green Arrow use a statue to launch a surprise attack, and send a passing maintenance robot to helpful, explosive suicide against the mace wielding, bird faced, gender oppressed squeal machine Hawkgirl.
This is the final of the round one bouts, meaning that next week we will get to see Batman beat Wonder Woman, and The Joker walk all over The Flash. What? It's a popularity contest? It doesn't take a millionaire crime fighting detective to work out those winners.
In the mean time have a look over the two advertised bouts. Injustice Gods Among Us really is shaping up to be a noteworthy fighter, and it's never possible to have too many of those.
Injustice: Gods Among Us will be released on April 19 for Xbox 360, Playstation 3 and Nintendo Wii U.