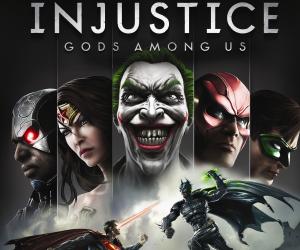 Wonder Woman squares up to Batman and The Joker sets his gags on The Flash in two of the Injustice Battle Arena's Quarterfinal matches.
The third match features emerald fancier and king of the Leprechauns Green Lantern against NetherRealm's stud-muffin Aquaman, while the fourth pits Superman against goat beard wearer Green Arrow.
These quarter final matches follow the past four weeks of Injustice Battle Arena match ups, all of which relied on fan votes before creating the fight in the upcoming NetherRealm DC scrapper Injustice: Gods Among Us.
As with these past match-ups the winner is decided by votes on the Injustice: Gods Among Us website, so toddle over there and pop down your vote. If one of the semi-finals isn't Batman vs. Joker then something has gone wrong with the organiser's plans.
There's more to all this than what you see below as well, with the Injustice page including opinions from official voice of games Nolan North and official voice of comics Stan Lee.
Mortal Kombat was pretty good, and there's been no shortage of hype generating information for Injustice over the last few weeks. These Battle Arenas aside we've had the Red Son DLC shown off and Lex Luthor waxing on about being on the winning side, hinting that the game might have an interesting story mode.
I honestly can't wait for Injustice. These Battle Arena things, the early week ones anyway, may be all a bit of fluff but it's fluff that preceeds uncut match footage with all the arena abuse that's making Injustice look mighty fresh. Roll on April.
Injustice: Gods Among Us will be released on April 19 for Xbox 360, Playstation 3 and Nintendo Wii U.