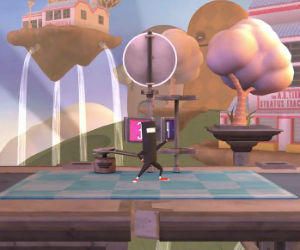 It may have taken a bit longer than the other versions, but European Wii U fans are in for a treat today, should they purchase Runner 2.
The PlayStation 3 version is still not dated in Europe, and Gaijin Games say that it is out of their control, but at least Wii U owners get a chance to play one of the best downloadable titles so far this year.
In our huge-scoring 9/10 review, Jonny said that it is:
A wonderful title that pours joy into the living room in a flood of musical wonderment. Challenging, inviting and long lasting, Runner 2 is a triumph.
And to prove it, we've dropped an hour of running into this post, so you can see the game in action (the PC version, specifically).
Bit.Trip Runner 2 is available now for Windows PC, Xbox 360 and (now) Wii U. The PlayStation 3 version is available in North America, and the PS Vita version is due in Summer.