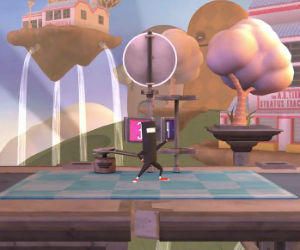 If you've listened to past episodes of our flagship podcast (The Godcast), then you'll know that myself and Calvin are massive fans of Bit.Trip Runner. The marriage of the retro appearance, rhythm platforming and music makes for a superb experience.
Jonny reviewed the sequel (Future Legend of Rhythm Alien) and is now all aboard the Gaijin love-train, saying "Runner 2 is a triumph" and giving it a huge 9/10 score.
Well, luckily for us, the game is out today on PC (via Steam) and Wii U, with the Xbox LIVE Arcade version coming on the 27th (Wednesday).
Gaijin say that they are hoping the PlayStation 3 version will be released on March 5, but aren't 100% – though they do say the game will definitely hit in March. All of the above versions will cost $14.99.
The Vita and iOS version are due to be released in Summer.
Whilst you wait for it to unlock on Steam, check out 15 minutes of the game, below.