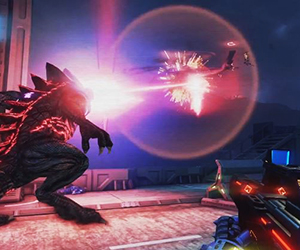 Far Cry 3: Blood Dragon, the standalone neon-drenched swear-em-up from Ubisoft has posted its first developer diary online.
Developer diaries are usually quite tepid, self-aggrandising affairs (we're looking at you Bungie) but Ubisoft Montreal here carry themselves with a great sense of humour as they interview 80s action star Michel Biehn.
"I've got one page with about nine 'fucks' on it!"
The utterly insane looking game, which stars Biehn as a Mark IV Cyber Commando hoping to save the world in a futuristic 2007 after "the apocalypse had an apocalypse".
Blood Dragon doesn't require Far Cry 3 to play and will be available to download from May 1st.
"I'm here for a paycheck and that's about it" 
Earlier this week a live-action short was released to promote the game, and it too is bonkers.
Watch the dev diary below.