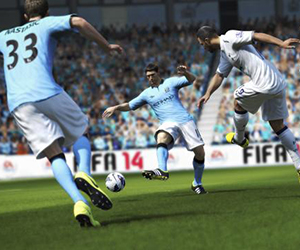 Deciphering all the information from a newly announced game is often difficult, especially with a game like EA's FIFA 14 which this lunch time announced a wealth of tweaks.
So, for the sake of clarity here is a bullet point list of all the changes announced for FIFA 14 in the order they were told to the press.
Be sure to also read our preview and interview with series producer Sebastian Enrique.
Build-up play
– Sprint dribble turns previously tuned to 22.5 degrees – now removed from 14
– Focus on player momentum, sprinting no longer pushes ball ahead a set distance
– Momentum also increases fidelity of maneuvering while sprinting
Team-mate AI
– Tighter marking
– Defenders track multiple phases of play/make better decisions
– Defensive pressure "as a team", players out of control will move tighter to opposition
– Improvements to checked runs, runs along backline, backing into defenders (out of player control)
Shielding
– Shielding now easier
– Activated with left trigger
– Can pull trigger while sprinting to slow down
– Hitting trigger will fend off defensive pressure
– Also used to back into defenders
Finishing
– Totally reworked animations which depend on position, proximity to ball and time to shoot
– Players will adjust their position pre-shot
– Works with crossing/long passes also
Real Ball Physics
– Reworked physics after research into effects of drag and spin on variety of balls
– Linear deceleration of ball gone, now dependent on type of ball, power of shot etc
– Ball flight path changes = new shot types: dipping shot, low-rising shot, swerving shot
– Curling lofted through balls now possible
– Second chance tackles. Short window of opportunity to follow tackle up with second attempt
Skill Games
– Some games now have multiple balls instead of restarts
– New game: one-two passing exercise with one running player and several teammates on other side of cones
– New game: Square of pitch with four teammates and four opposition. Simply keep the ball away for as long a possible.
Career Mode
– New hub is more accessible, easier to navigate, less clutter, utilises tabs
– Global Scouting Network now more in-depth
– Search for specific player traits or tendencies
– Year-long preparation for transfer window
– Set scouts areas of the world to search
– Longer times spent scouting return more refined results