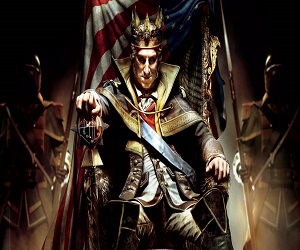 Xbox Live's Major Nelson has revealed all your 360 info for this week and next.
Assassin's Creed III: The Redemption will be the featured Xbox Live release this week. Running at 640 MS Points, the latest expansion pack for Assassin's Creed III and is the final in The Tyranny of King Washington series. Poker Night at the Inventory 2, Telltale Game's star-filled Poker Game, will be debuting as well.  All the sales this week have a puzzle theme, with Peggle, Plants vs. Zombies, and From Dust among the featured titles.
Next week will see the release of Far Cry: Blood Dragon, if you haven't already, check out it out here and you WILL want it. Arcade-style games take center stage in the sales starting April 30.  Scott Pilgrim vs. the World and Joe Danger 2:  The Movie would make worthy additions to your Xbox Live Arcade library. Both weeks will see fighting games punch their way to Games on Demand and some Kinect sales.
Check out the full list below…
| | | |
| --- | --- | --- |
| Xbox LIVE Arcade  | Release Date | MS Points |
| Poker Night at the Inventory 2 | 24-Apr | 800 |
| Far Cry: Blood Dragon | 1-May | TBD |
| | | |
| Game Add-ons | Release Date | MS Points |
| Assassin's Creed 3 The Redemption | 23-Apr | 640 |
| | | |
| Deal of the Week | Discount Dates | Price |
| Peggle | 23-Apr to 29-Apr | 320 (60% off) |
| Plants vs. Zombies | | 600 (50% off) |
| From Dust | | 480 (60% off) |
| Catan | | 320 (60% off) |
| Peggle Nights | | 160 (60% off) |
| Quantum Conundrum | | 480 (60% off) |
| Rock of Ages | | 320 (60% off) |
| Carcasonne | | 400 (50% off) |
| Super Puzzle Fighter II Turbo HD Remix | | 320 (60% off) |
| | | |
| Tony Hawk's Pro Skater HD | 30-Apr to 6-May | 600 (50% off) |
| NBA JAM: On Fire Edition | | 600 (50% off) |
| Dungeons & Dragons Daggerdale | | 320 (60% off) |
| SCOTT PILGRIM THE GAME | | 320 (60% off) |
| Scott Pilgrim Knives Chau Add-On Pack | | 80 (50% off) |
| The Simpsons Arcade Game | | 400 (50% off) |
| NFL Blitz | | 600 (50% off) |
| Castlevania Symphony of the Night | | 320 (60% off) |
| Pac Man CE DX | | 400 (50% off) |
| Joe Danger 2: The Movie | | 800 (33% off) |
| Zombie Driver | | 400 (50% off) |
| X-MEN | | 400 (50% off) |
| | | |
| Sales  & Specials | Discount Date | Price |
| Kinect Central: Kinect Party – Full Unlock | 23-Apr to 29-Apr | 320 (60% off) |
| Kinect Central: Angry Birds Trilogy | 30-Apr to 6-May | Varies by region |
| | | |
| Games on Demand | Release Date | |
| Dark Sector | 23-Apr | |
| SOULCALIBUR V | 23-Apr | |
| Dragon Ball Z for Kinect | 23-Apr | |
| Dead or Alive 5 | 30-Apr | |
| Onechanbara: Bikini Samurai Squad | 30-Apr | |