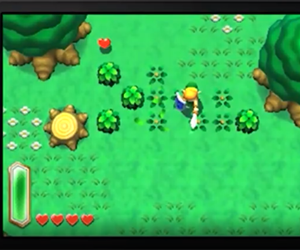 Nintendo has announced The Legend of Zelda: A Link to the Past 2 for the 3DS.
The most unlikely of sequels was announced at the end of another successful Nintendo Direct conference which included new information about both the 3DS and Wii U.
Set within the same world as the original, the entirely new game will make use of the system's 3D capabilities and includes a new ability for Link, who will now be able to turn himself into a drawing and travel through walls.
Whatever Nintendo have been smoking, I want some.
Better still A Link to the Past 2 will be released THIS YEAR, most likely as Nintendo's Christmas centrepiece.
The other big announcements came in the form of Yoshi's Island 3DS getting unveiled for the first time and Earthbound getting a release in the West at long last on the Virtual Console.
The show began, as has become tradition, with Satoru Iwata with a quickfire look at a lot of games already announced for the handheld.
He began with Mario & Luigi: Dream Team Brothers,  explaining a story that involves Princess Peach getting kidnapped (shock horror) and dragged into a dream world. The Mario Brothers must adventure through both world's to find her, and players will be able to do that on July 12th when the game is released.
Talk of Mario Golf: World Tour focused on online play. Players will be able to compete with others around the world and submit scores either to scoreboards or to take part in large scale tournaments. Individuals will also be able to set criteria for games they set up online, either for rule sets, characters to use or to set up tournaments of their own design. A summer release was promised.
A new Mario Party (we've lost count too) was also announced boasting seven game boards and 81 mini-games. This was set out for a winter release.
We were informed that this would be a 3DS conference but the Wii U was also talked about. New Super Mario Bros U downloadable content Super Luigi U was talked about in more detail. The game will impose a shorter time limit on players and utilise the "characteristics" of Luigi, so he'll be able to jump higher than Mario but won't have as much control over his slide. This is set for summer.
Donkey Kong Country Returns 3D will be, as was expected, re-worked for the handheld with more bite-size levels and additional health. The game as it original was on Wii (presumably with all the visual sheen still in place) will also be included as well as eight additional levels unlocked after the main game.
Action puzzler Mario + Donkey Kong: Minis on the Move was dated for a May 9th release on the e-shop before talk moved to the impending Spring Update for the Wii U which will bring improved load times, the ability to copy data to and from USB drives, background downloads access to Wii mode from startup. The update arrives next week and will be followed the day after by the arrival of Virtual Console.
A new Pikmin was announced for Pikmin 3, this one being a flying "Winged Pikmin" which was apparently included in the E3 2012 trailer but nobody noticed.
Attention then moved to the localised shows. Europe was shown the previously leaked Animal Crossing: New Leaf special edition 3DS XL and Legend of Zelda: Oracle of Ages and Oracle of Seasons were both announced for release on the e-shop on May 30th.
This was followed up by three more e-shop games in the form of The Starship Damprey, Bugs vs Tanks and Attack Of The Friday Monsters.
Finally we saw Shin Megami Tensei 4 and Professor Layton Legacy, which gets a release before the end of the year.
The finale was A Link to the Past 2. You can watch the entire conference below, or just the Zelda announcement below that.