Bit.Trip Runner 2 is somewhere near the top of the pile in terms of the best games I've played this year. So it came as very good news indeed when I found out I'd have an excuse to jump into the delightful world of Commander Video once again to test out the Good Friends Character Pack that recently hit Steam.
The DLC pack adds seven new characters to play with, and they are: Atlas from Portal 2, Spelunky Guy from Spelunky, Raz from Psychonauts, Quote from Cave Story, Dr. Fetus from Super Meat Boy, Josef from Machinarium and, lastly, an Invisible Commander Video. As if the game wasn't hard enough already!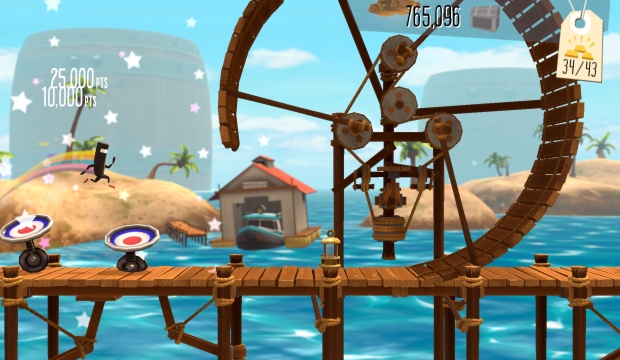 The Invisible Commander Video character is more transparent than invisible, and is a brilliant way of putting those super-honed Runner 2 skills to the test. As you will see in the clip below, I was somewhat rusty when picking up the game for the first time in a while, so I steered clear of Invisible Commander Video for the purposes of the video. Ahem…
Apart from adding a load of new dance moves to play around with, and the fact that playing with new characters is a bit of fun, there isn't a whole lot more to write home about here. Fans of the individual characters will no doubt get a kick out of some of the things they do – I myself particularly enjoyed the fact that Atlus' shield is a Companion Cube. What you need to know is this: The DLC pack is just £1.99 on Steam. So if you fancy taking a load of new characters for a run and unlocking their various costumes (and why wouldn't you?), go get it!
Need more convincing? Check out the video below, but please don't judge my moves…