Developer; Free Lives have made Broforce accessible to fans and "freedom-loving gamers" alike. You can get that latest version of Broforce on PC and Mac for £11.99 from both Steam and Humble, via broforcegame.com. A new update is out for the hyper-explosive game, here is what it involves:
The latest update to Broforce delivers a devastating payload of fun with new gameplay tricks like the Tactical Backflip, new white-knuckle missions, and the fearless Ripbro – the first female addition to the Broforce team. Broforce fans will be able to follow progress and receive updates each month before the game's late summer launch as new missions, locations, modes, and bros are added through development.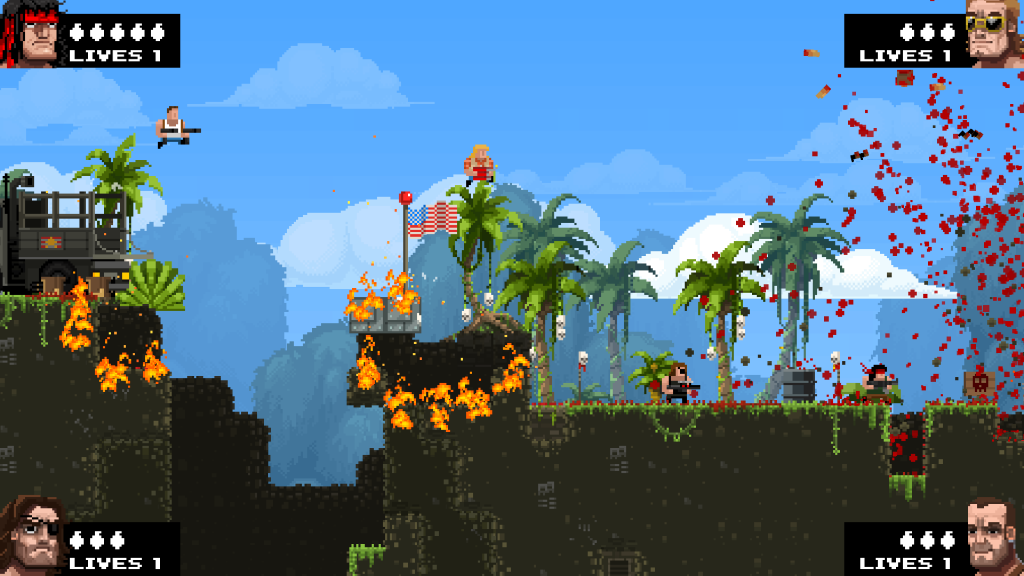 Pick up Broforce for just 11.99 (Pounds) from Steam and Humble. For now, check out the video for the Broforce Tactical Update, below. We will also have a Let's Play video coming soon, so keep your eyes peeled.
Broforce brings the shock and awe as gamers across the globe take control of an under-funded, over-powered paramilitary organization dealing exclusively in excessive force. Stroke your MURDER-BONER™ with up to four friends, locally and online, in non-stop, explosive run 'n' gun action and eliminate the terrorist forces that threaten our way of life. Adapt your tactics as you select bros from a massive roster of true 80's and 90s action heroes, each with unique weapons and abilities. Set off incredible chain reactions of fire, napalm and limbs in the name of freedom. Then, as the dust settles, face off against each other in one of many competitive modes. Finally gain closure by answering important life questions that have been keeping you up at night: who would win in a flex-off between the Brominator and Brobocop?