"Ready for all versions of Titanfall" is the tagline Turtle Beach are going with, and I couldn't have put it any better myself. Not only is the Turtle Beach Ear Force Titanfall Atlas an officially licensed Xbox One headset, it's also compatible with PS4, Xbox 360, PC and mobile devices. In fact, any device with a regular 3.5mm audio jack is good to go, making the atlas one of their most versatile headsets to date.
With a detachable microphone, the Atlas is easily transformed into a great-looking pair of headphones, for when you're out and about. When you're ready for some serious gaming – be it Titanfall or any other new-gen game – pop in the mic and plug the in-line amp into your console of choice for the full gaming audio experience.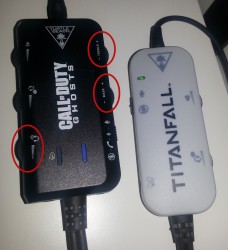 Installation really is that simple for all applications. Gaming headsets can often by overwhelming, with so many different cable combinations for different set-ups. But these are pretty straightforward, with clear diagrams in the quick-start guide. The in-line amp offers easy access to adjusting volume levels, with separate controls for game volume and chat volume. There are a few differences in this iteration of the in-line amp, than what we've seen from previous Turtle Beach set-ups, however, with the lack of bass and treble controls and a missing mic-monitor wheel. The mic-monitor wheel is missed too, as the default internal volume of the microphone is too low, which means you can hardly hear your own voice, which completely defeats the purpose of PGM (which is to prevent you from speaking too loudly, in order to hear yourself over whatever is coming through your headphones at the time).
The audio quality is absolutely amazing, though. With the 50mm audio drivers, the Atlas is able to deliver bass at levels that make a real difference in games like Titanfall and Battlefield. It really has an impact on the enjoyment of your games, with the audio coming through so crisp and every sound effect further immersing you into the game environment.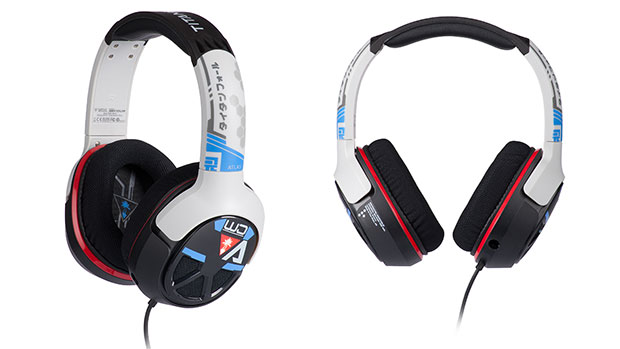 They look great, too. Being officially licensed, the Titanfall design is spot on, with cryptic Katakana-esque symbols and hexagons aplenty. You wouldn't blink an eye if one of the player characters were wearing these headsets in-game. The rotating ear cups are a great touch, making the headset more adjustable for comfort while wearing, but they're also great for resting the cups on your shoulders when the headset's not in use – showing off that design brilliantly. The cups themselves are really soft and comfortable. Unfortunately, the rigid design of headband makes the Atlas too tight by default. It really is a shame that the headband isn't as adjustable or as flexible as it should be, because it applies too much pressure to the sides of your head. They can be broken in though, as weird as that sounds. The Atlas headset is like a pair of expensive shoes, you've got to stretch them out a little to make them feel as good as they look. This is something you shouldn't have to do though, and quite a major design oversight.
In the box you'll get everything you need to start gaming with the headset right away, including the flexible/removable boom mic, USB in-line amplifier, official Xbox One audio adapter and Xbox 360 chat cable.
Turtle Beach have created something that looks fantastic, works with almost every device, and has brilliant audio quality – but the Atlas is ultimately let down by the tight fit. That squeeze on the temples is going to put a lot of people off.
Available for £119 from Amazon UK / $119.99 from Amazon US.