After some doubts about the logistics, the threat of civil disobedience, and worries about just how Brazil were expecting to progress with Messrs Fred and Jo (two alehouse strikers who sound like they would be more suited to artexing your house), the 2014 World Cup has been the most enjoyable for many years. The vibrancy, refreshing showings from the impressive Central and South American sides, and the hilarious initial suggestion that Chiellini intentionally fell onto Luis Suarez's bumper overbite have all contributed to a wonderful soccer carnival, one of the best World Cups ever.
As you would have read on this very site recently, 2014 was also a fine vintage for the FIFA tie-in game. Their Brazil 2014 game is an excellent use of the license, which also has a go at mixing up the game engine and providing a few interesting bells and whistles. In a strange retail climate that has seen companies desperately shoehorning a Brazilian flavour into any product imaginable (take a bow, Brazilian Pot Noodle), against a backdrop of general indifference and low expectation where England were concerned, EA gave us the perfect opportunity to play out our own Samba fantasies.
But as is often the case in the world of gaming, things haven't always been this way. Football games themselves have taken a long to time to evolve into the pseudo-realism of the current crop. Many early efforts barely resemble the sport, and even heralded classics like Kick Off and Sensible Soccer are odd approximations of the beautiful game, when you really think about it. But there is an innate desire in all fans of the old Jogo Bonito to vicariously participate in tournaments, to compete, to organise. Subbuteo and actual kickabouts aside, developers have dropped the international tournament gimmick into dozens of titles during the course of my lifetime.
These include off-brand "World Cup" fare – such as the ace Tecmo World Cup 92, and the River City Ransom-looking Nintendo World Cup. But what of the FIFA-endorsed collaborations of yore?
The first ever official tie-in dropped a staggering 28 years ago, in the days when there hadn't actually been a truly decent footy sim. Emlyn Hughes Soccer was just a twinkle in Graham Blighe's eye, and Match Day II and the sparkling top-down Microprose Soccer were a year away. With its brilliant Pique mascot, exciting Danish side, and the emergence of El Diego as the greatest footballer on the planet, Mexico 86 was my first World Cup as a fan, including my first fully completed Panini album. When US Gold acquired the license to produce a game based upon the tournament, they lazily decided to re-skin an awful earlier WC-themed Artic title, and offered a pathetic ten teams for Commodore 64.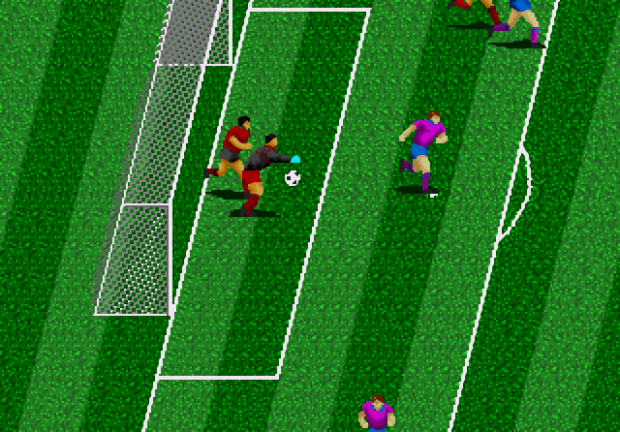 Italia 90 fared no better. With the English fans emotionally invested in the passionate performance of Bobby Robson's side, and a heady backdrop of crowd trouble, New Order and a Cameroonian attempting to murder Claudio Cannigia in the opener, it was also a time when gamers expected more from their more powerful games devices and home micros. The Amiga and ST already had some terrific football related fare, and the arcade-oriented Mega Drive was prime for a worthy tribute to the tourney that made it OK for grown men in Union Jack shorts to cry at Turandot. What really happened was Sega and US Gold choosing to rip-off of the superior trackball-compatible arcade effort Tekhan World Cup, with a naff third home computer version, independently engineered by the guys who would go on to make Ecco The Dolphin, squeaking out for a couple of formats.
US Gold finally surrendered the licence after USA 94, but not before coming agonisingly close to producing a worthwhile stab at a top-tier Copa Mundial sim. Sensible Soccer was the premier title of the era, so rather unsurprisingly they took the decision to ape the top down viewpoint and smaller, stylised sprites. It actually included some excellent touches which are par for the course these days – such as the option to trap the ball, and an impressive array of passing options. If you were lucky enough to own the Sega CD version, you also got a soundtrack by the Scorpions. The fucking Scorpions.
By 1998, Electronic Arts had a death-grip on anything FIFA related. Arriving as it did during my university days, France 98 holds a great deal of sentimental charm for me – even if it was soundtracked by the irritating "Tubthumping" by crusty agit-pop divvies Chumbawumba. I consider it to be the last memorable "old-school" World Cup game, before the wilderness years when EA got pwned by Konami. I clearly remember using the edit functions to change the barnet of the entire Romanian side, and tinkering with the England team to include Matthew Le Tissier. The sepia toned classic matches, commentated upon by Kenneth Wolstenhulme, are an utterly brilliant inclusion. Being able to take control of the Magnificent Magyars and rifle in unstoppable strikes with Ferenc Puskas is a definite World Cup gaming highlight.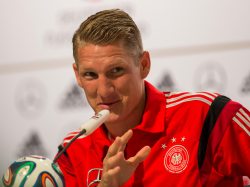 The next couple of World Cups yielded competent, if average packages that still lagged behind Pro Evo significantly. 2002 is remembered more for the fact that Oliver Kahn sued the company for using his likeness without permission, which is infinitely less embarrassing than when Bastian Schweinsteiger issued a lawsuit when someone named a dildo after him.
When Africa hosted its first ever competition, Suarez had usurped Maradona as the premier pantomime villain of the piece, England were ensconced in an isolated hideaway by a miserable Postman Pat lookalike, and EA were comfortably back on top of the soccerball pile. The licensed sim was well on its way to approaching the excellence of the current example, and also had the benefit of Future Sound of London's seminal Papua New Guinea on the OST, for some reason.
Nobody is quite sure what will happen in Sunday's Final. Germany were irresistible in dismantling the hosts – with Julio Cesar facing more shots than a drunk England fan in Brazil. But Argentina are evoking comparisons with their 1986 counterparts – a team relatively short on flair being lifted by the dynamism and brilliance of Leo Messi, the same way Maradona harnessed his bronca to drag a workmanlike squad to the ultimate victory. Before you settle down to watch it, why not have a look at some of these games from yesteryear, and see how far we have come. On the pitch, and on the screen, things have rarely looked better.