Despite the fact that it stars a WWE Superstar, a CGI raccoon, and Vin Diesel lending his guttural vocal talents to an anthropomorphic tree, Guardians of the Galaxy has been a wildly successful new entry to the Marvel cinematic universe, taking one of the more kooky, left-field superhero teams in their canon and slotting them into a well-received, good humoured old-school romp.
The same way other key Marvel-verse movies and characters have been transformed into kick-ass pinball tables, Zen Studios have released a tie-in effort, which takes choice elements from the source comic material, as well as the new celluloid treat. Serving as both a fine way to familiarise yourself with the oddball quintet, and a downright excellent game of pinball in its own right, this is yet another tick in the win column for Zen, and quite comfortably sits alongside the Infinity Gauntlet as the best Marvel entry yet.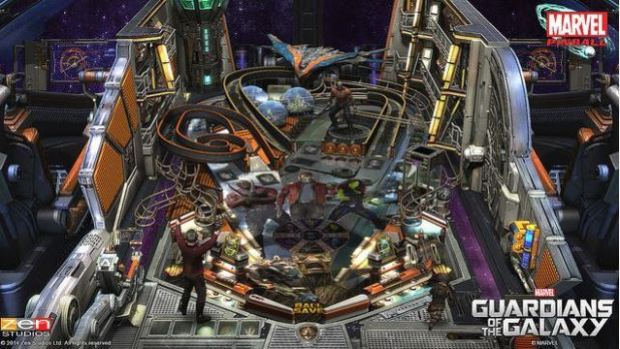 Kicking off each game with an instant minute-long multiball is a hell of a bold move – but this shocking tactic works a treat – as you are immediately put in control of four balls, each one designed to identify with a corresponding Guardian, in a wild free-for-all as you bust the gang out of their Kyln prison, and even attempt to salvage Star-Lord's cassette tape of 1970s chart toppers. It is an awesome way to open proceedings, grasping your attention and setting the scene with a series of excellently-voiced one liners courtesy of Mr Quill, the irrepressible Rocket and the rumbling tones of Groot. Even though the voice talent from the flick aren't participating here – those that are provide an excellently cheesy script to accompany proceedings.
Once the action gets underway, incorporating an imaginative skill-shot mechanic, you enter a superbly designed table – tricky yet fair springs to mind – which entertains a number of cracking set-pieces including shootouts and hand to hand combat with Ronan the Accuser, a puzzling mini-table where you light up flags to help Gomora defeat Nebula, and defending yourself from a full-on Necrocraft assault. There are numerous opportunities for further multiball thrills, including a Collector-themed mode which can reap huge rewards if you manage to lock down three Guardian balls.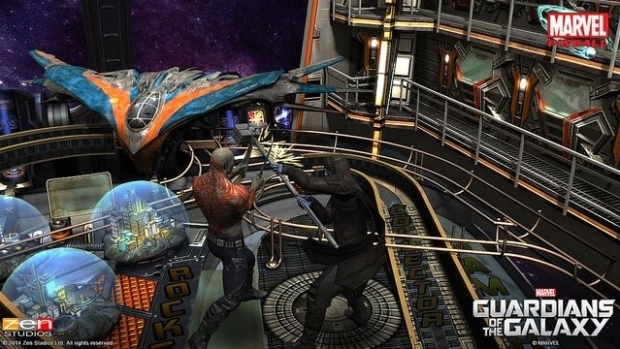 The table does get quite busy at times – with plenty going on, various animated characters hopping around, shooting and trading blows with each other – but it never becomes too much of a distraction, and it looks excellent as you would expect from Zen – whether you are playing in HD on one of your big consoles or on the smart OLED of the Vita.
VERDICT: Some may argue that having to begin each play-through with the multiball sequence becomes a bit of a chore, but the opportunities to rack up big points early doors should appeal to old school pinball heads, and hey: at least it's something a bit different – just like the skill-shot that heralds the start of each ball is something we have never seen before. This is another brilliant table from Zen, who seem to have developed a knack for both innovative table design and how to put a licence to good use.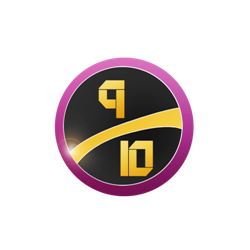 SUPERB. This is the mark of greatness, only awarded to games that engage us from start to finish. Titles that score 9/10 will have very few problems or negative issues, and will deliver high quality and value for money across all aspects of their design.
Review code provided by publisher.