Throughout my gaming history I have primarily been a Nintendo fan, then fluctuated between them and Sony for my console usage after the release of the original PlayStation. During the last console generation I was a PS3 user. After a dalliance with PC (World of Warcraft was my home for a long, long time), I settled once again on PlayStation. During my time with the console I would occasionally glance over at the 360's software line-up and feel a little pang of envy. Titles like Blue Dragon and Lost Odyssey were games I wanted to play, but I wasn't willing to buy a console for them. There was however, one series that caught my eye that wasn't a JRPG  – and that was Gears of War, Epic's impossibly-manly dudebro simulator. But, I loved the Uncharted games, despite their inconsistent quality, and so I never did buy a 360, and never got to play Gears of War. Maybe one day…
It came as no surprise that Microsoft showed Gears 4 to the world at E3, and to be honest I found myself underwhelmed. The pace was plodding, and a grand total of three enemies were seen during the demo playthrough. Where was the bombast? Where was the pulse-pumping action? Where was the "Hoo-rah!"? Everything the Gears series is known for was absent during the demo. We saw only one enemy killed, an electrical storm that didn't really do much apart from look pretty and some "tropey" stuff that was used to create a sense of elevated tension.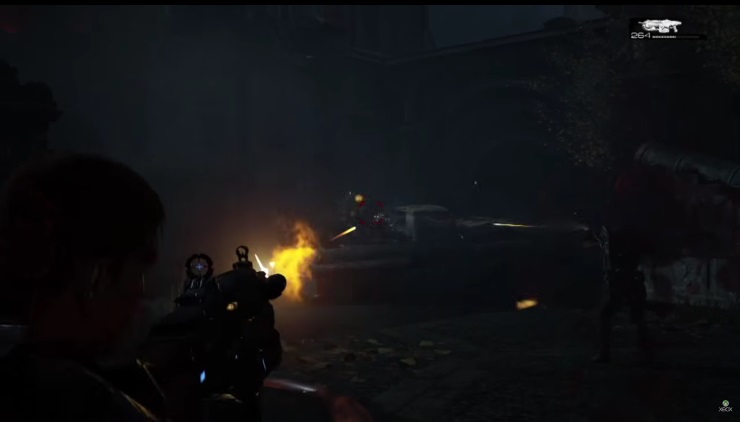 Maybe this was a response to the criticisms of Gears as a "game for bros", an attempt to change it up and attract others to it? But that's not always needed; it's Gears, it's supposed to have that air of "America! Fuck yeah!," and I didn't get that feeling at all. It should be noted that this could possibly change, the game isn't due out until 2016 and there'll obviously be numerous tweaks and changes made to the whole thing. I hope The Coalition has enough people onboard who understand the Gears of War brand and can deliver the experience people expect from a Gears title. I'm sure series devotees are waiting with baited breath to see.
For the sake of balance I should probably mention that I was also a little underwhelmed by the Uncharted 4 demo. After Drake's rather lacklustre third outing it was evident that something needed to be changed, possibly a return to the more focused "one location" style of the original, or even the recent Tomb Raider reboot. But it seems that once again we have a globe hopping adventure with puzzles bookended by telegraphed firefights. Naughty Dog have an eye for spectacle, but Drake's formula is starting to wear a touch thin.
I'm open to being convinced either way, but right now I remain a little nonplussed. Maybe I have third person shooter fatigue? Maybe I am way too cynical in my old age? I don't know, but there are plenty of different games due for release between now and Gears – or Uncharted – 4. Maybe by that point I'll be crying out for a really pretty shooting gallery?