Whenever Adam is looking for someone to go to a gaming event in our group chat, it has become a running joke that one of us pipes up with 'Is it in London?'.
Everything in the UK seems to revolve around the capital city – gaming included – so it is incredibly refreshing to go to an event up north for once. This year's PLAY Expo took place last weekend at Event City in Manchester.
Billed as 'the North's biggest gaming event' – even if, as I've said, that doesn't mean much due to a lack of competition – I wasn't entirely sure what to expect. The billing was quite light on new games, with a focus on retro gaming and card/board titles instead, but in many ways that was almost better than being able to check out the latest AAA titles.
On entering I immediately made a bee-line for the Dark Souls III hands-on. Twenty minutes is nowhere near enough time to judge any game, but I will say it is, for better or for worse, more Dark Souls. The same UI, the same graphical style and the same measured, methodical combat. You'll already know if you're going to play it or not, and FROM clearly know this as well.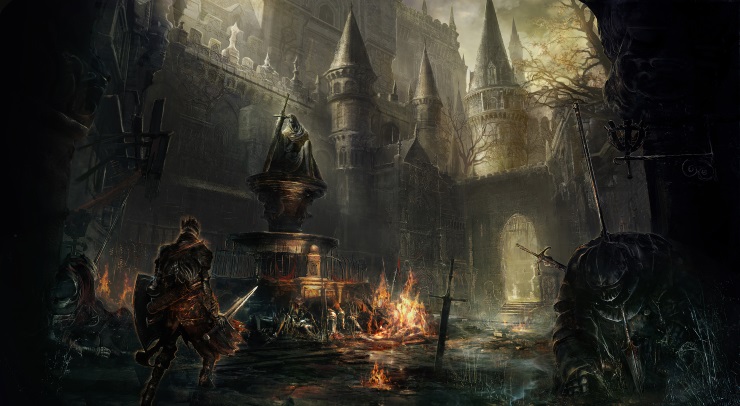 Short demos of Sebastien Loeb Rally Evo and Earth Defense Force 4.1: The Shadow of New Despair followed, and I watched many, many children play Sky Saga while in the queue for Dark Souls; it looks like an incredibly cool more action-orientated Minecraft (yes it does have bloxel based graphics). And that was basically it for the new stuff.
PLAY Expo is so much more than this though, as I quickly discovered. Towards the rear of the hall, just in front of a massive bank of pinball machines, was a range of retro consoles. N64s, original PlayStations, SNES' and more I couldn't even begin to name were set-up on tables across the hall, booted up and ready to go. Naturally there were a range of slightly older gentlemen reveling in playing the games of their childhood, but the best bit was seeing young kids enjoying the games of yesteryear. Two five or six-year-old boys were in fits of laughter playing the original Mario-Kart, one woman was playing TimeSplitters 2 with her two young daughters and one proud dad was filming his son on a keyboard-like console I didn't recognise.
Don't get me wrong, there were rows and rows of PCs set up with Minecraft on – and by god children are frighteningly good at that game – but right next to them were lan setups of Jedi Outcast and Battlefield 1942, which everyone, children included, were having just as a good time on. In a day and age when FIFA, Minecraft and CoD dominate the public perception of gaming, it was fantastic to see children learning about titles outside of them and where gaming has come from.
One area of the hall was sectioned off for a Magic: The Gathering tournament – which, knowing nothing about, I steered clear of – while another was set up for attendees to play some of the latest board-games. Arranged amongst these were a series of stages and areas for talks and displays. The whole thing was accessible, with attendees invited to take part all through the weekend. A gamer quiz podcast had an audience member join them, while anyone could just sit down and play a console or boardgame that was free.
In the centre of it all were the merch stands. Everything and anything geek-culture related could be bought. Comics, t-shirts, retro games and more were for sale, and I lost over an hour looking around the various stalls, tempted by things ranging from The Force Awakens posters through to a sealed copy of Goldeneye 64 (I don't own an N64, and never have, but it would have been cool anyway).
There was also a strong Japanese anime following at the event, with plenty of manga comics for sale and cosplayers walking in the crowd. The latter had talks and events all to their own, with a stage display discussing stitching techniques and a murder mystery event. Admittedly I didn't recognise the majority of characters I saw, though I regret not grabbing a photo with the Stormtrooper, Ghostbusters and Skyrim's Dragonborn when I had a chance. How quickly the yells of 'Praise the Sun' directed at Solaire of Astora stopped being funny for the poor bloke I'm not sure though.
In a word, PLAY Expo was cool. It was a celebration of gaming and geek culture in its entirety, not just the modern stuff we see at the likes of E3. There was something for everyone, regardless of age or tastes, and holding these events in a more accessible location than central London (for us Northerners at least) is incredibly important. I look forward to attending next year.