As the bus dropped myself and a bunch of other journalists off at a busy cross roads in Pasadena, around 30 minutes away from Hollywood, my first thought was "Where the hell is the studio?" To the right was a giant car park, to the left a small alley with a few restaurants, and behind us a giant Container Store (a shop that only sells containers – and cat selfie sets). I don't really know what I expected a small studio to look like, but I wasn't anticipating an inconspicuous building full of other offices.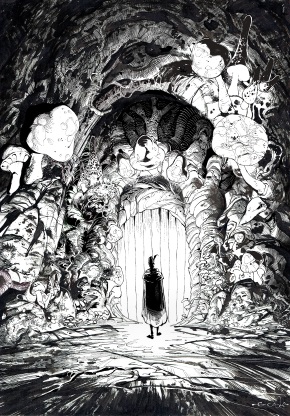 As we entered we were greeted by a giant Ninja Turtle wearing the iconic King's Quest hat and, weirdly, an Avengers medal – among other things. To the right, a corridor that lead to rooms full of people working away on the final changes to Episode Two; to the left, a more open space, with yet more devs working away. As we were ushered into the room that would be our home for the rest of the day, apart from a brief trip to a lovely wrap shop, the most noticeable thing was the view: in the foreground a busy road that seemed to be heading right below the window, tailing off into the mountains in the distance.
Matt Korba, President of The Odd Gentlemen (which, lets face it, is the best job title in the world) founded the studio in October 2008 after he managed to sell his student project (The Misadventures of P.B. Winterbottom) to 2K. "We basically went from students to running a company, which was crazy", said Korba when we spoke to him at a preview event for Kings Quest Chapter 2. After the success of Winterbottom, the team moved on to other projects, but once they secured the King's Quest contract they started to expand, almost doubling in size.
The studio currently has around 20 members, almost all of which work out of the Pasadena office. While the team size has grown, in the grand scheme of things it's relatively small – something that Korba is a big fan of. "The thing is, for most games you don't need a big team, you need talented people. We have been able to create a small team of really talented people. There's no middle management here so you don't have to check something with this person or that person – if you make something awesome you just put it in the game."
Even after only being in the studio for a few hours it was clear that what Korba says is true; throughout our time there I caught glimpses of different staff members rushing across to others in order to talk shop or offer up suggestions all while working at a frantic pace to get things finished. There was a real sense of a community, and as we were introduced to each of the staff members it was clear that they love working here. Many of the team members showed us what they worked on in Episode One with a real sense of pride, from the logic behind the battle of wits, to some of the latest character models and animations.
Speaking to developers in this way is a rare opportunity, and completely fascinating. The logic and scripting behind the minigames is something that has always interested me and seeing just how Manny's AI worked for that infuriating ending of chapter one was super interesting: if he can't win on the current turn and you can't win on the next turn he just makes a random move. We also learnt that Graham's iconic cape was almost cut from the game as it wasn't working as well as they wanted. The physics and interactions did not look quite right and if it wasn't for some last minute tinkering the whole thing would have been removed.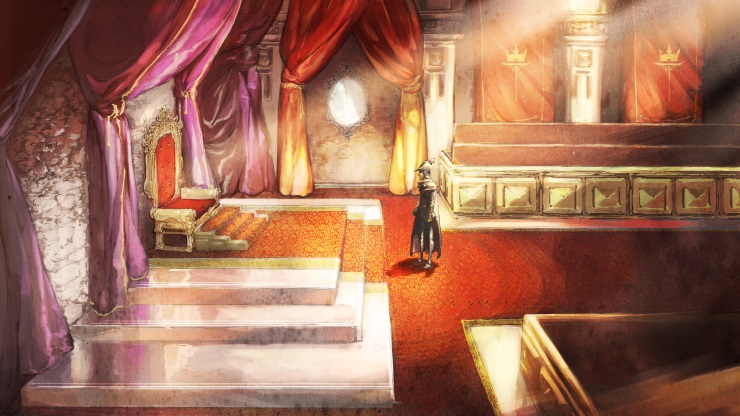 However it's not just the core development team that are passionate and proud of their work. Mid way through the day Zelda Williams, voice of Amaya Blackstone, walks in to meet us and spends well over an hour (if not more) chatting about King's Quest, her career and her thoughts on games in general. She genuinely knows her stuff and seems to love everything about King's Quest, especially because it is one of the first roles where she can show her work to her young relatives.
Life at The Odd Gentlemen seems to be pretty sweet. They have a super nice office in the sun of Pasadena, with a kick-ass mountain view that can be seen from almost every room. They are working on an incredible series and are putting their own unique stamp on it with great results. Just what the long-term future holds for the studio remains to be seen, but if they continue on in the form they are in right now, they could easily become one of the more successful small-scale studios out there.
Article based on a trip to The Odd Gentlemen's LA Studio. Travel and accommodation paid for by Activision.