The sublime Paul Heaton once sang "if rain makes Britain great than Manchester is greater". He was proven correct last Thursday, as I navigated over a mile of the sodden city to reach The Museum of Science and Industry to reach the opening night of PLAY it! Manchester.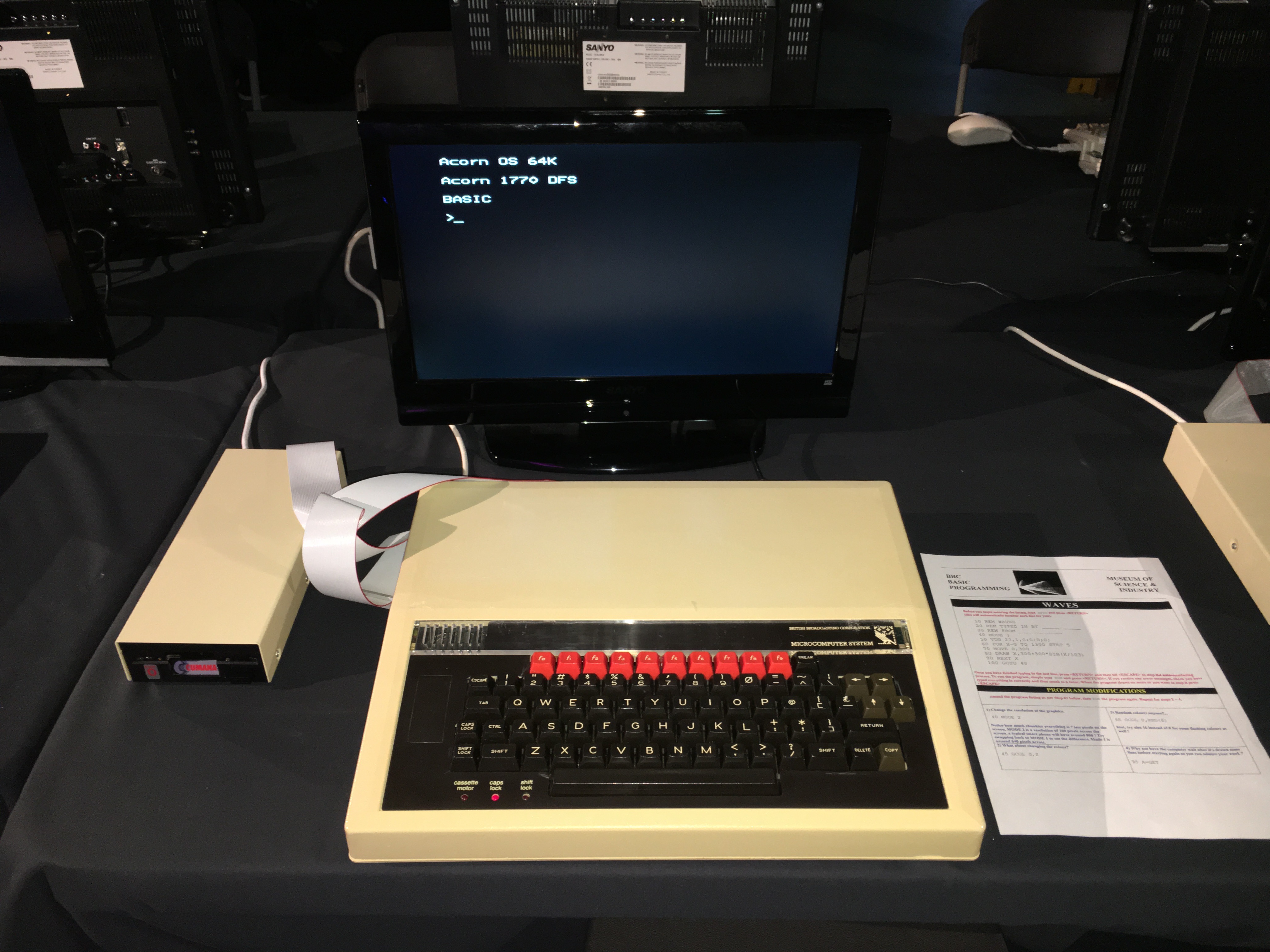 It's the second time the event has been hosted in Manchester and, after last year's success, it's even bigger and better this time around with every console you can possible imagine there to get your hands on. The tech ranges from typewriter-looking computers that belong in the dustiest of attics to the future that is yet to even hit us, virtual reality. I was honestly quite set aback by just how old some of this stuff was. Being a blinkered millennial it's rather hard to imagine, yet alone visualise, what my elders used to play when they were my age.
With a selection of consoles that spans over 30 years, a whole lot of games needed to be on offer to demonstrate the prowess of the machines and there certainly was no shortage: over 170 of them were available to play. Everything from Pong to Pro Evo 2016, from the very first text adventures to Street Fighter V and almost everything in between. It's a real walk through history (or down memory lane, if you're old enough).
I was naturally attracted to the timeless classics that I've heard so much about but never got the chance to play: Super Mario 64, the original Super Mario, Kingdom Hearts, Commando. Not only that, but there were games that I've never heard of and so much more that I don't want to spoil and ruin the chance for you to discover, to experience the rush of nostalgia, for yourself. I even smashed a round of original Pac-Man on a proper joy stick. I'm usually awful at Pac-Man.
Alongside the rows of historic computers and retro games there was a fair helping of modern games too, such as Batman Arkham City, Super Mario Galaxy, FIFA 16, Halo, Forza and Ni No Kuni: Wrath of the White Witch. I even got to have a go on Unravel and I must say that I quite enjoyed the feel of the platforming from my brief time with it, although I'm sure Colm would tell me I'm wrong.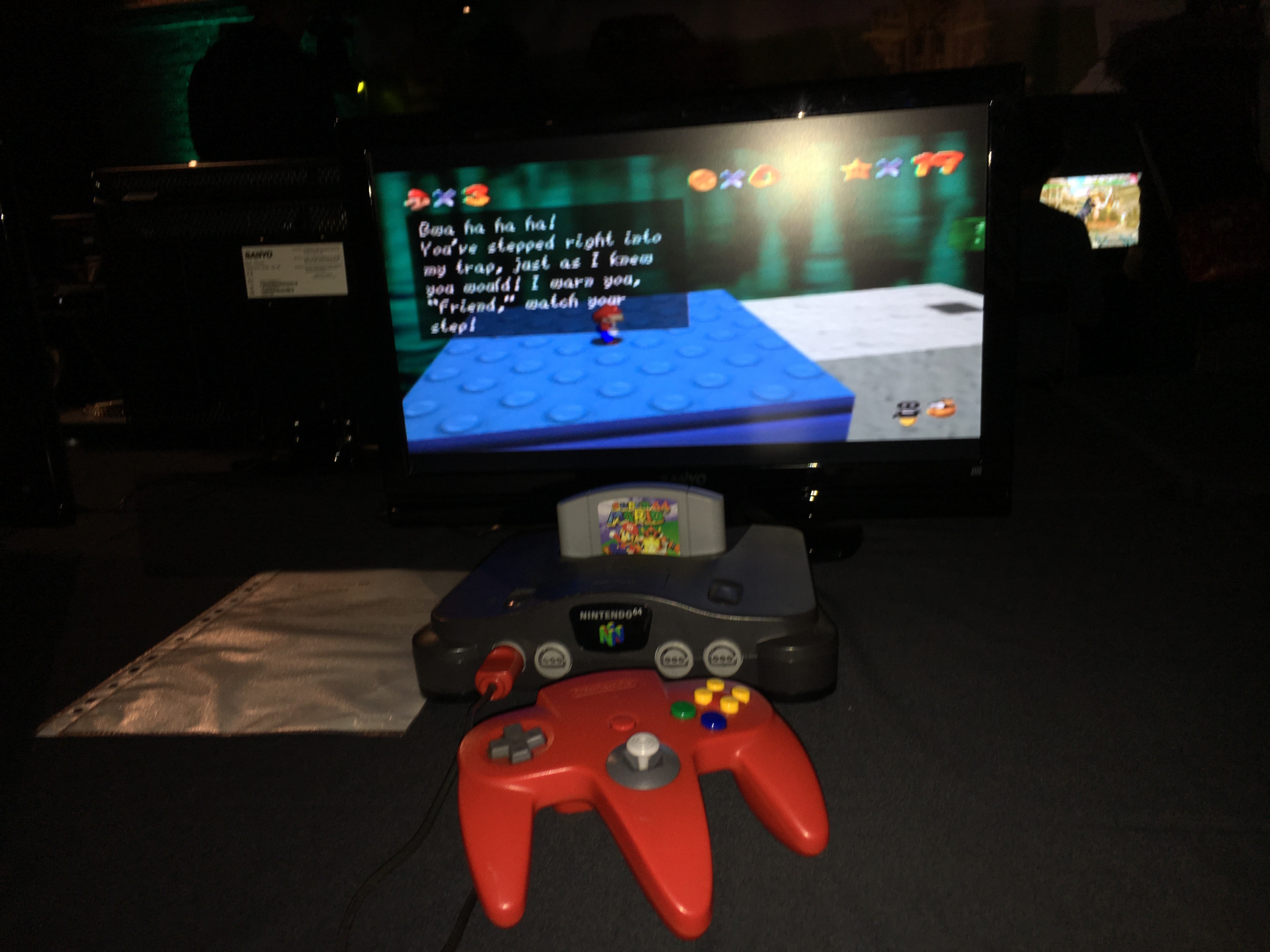 The way in which the room is set out makes everything easy to find: rows of desks, all of which have their own theme, grouping particular games together. Fighting games, racers, Super Mario, Sonic, shooters, Disney, Lego, music, old, new and others can all be found in specific areas of the room. The atmosphere is lovely too, with everyone of all ages and genders either heartily jumping back into their past or unearthing some previously unknown relics. The cosplayers got involved too, naturally. Master Chief was playing Halo, a group of princesses played this PS2 drumming game and some red, spiky dude potted about, too.
The main event, for me, was my first step into virtual realty as an Oculus Rift was strapped on to my head. I wasn't playing a game, just experiencing a tech demo. The Rabbids VR Ride sees you sit into a moving chair with the rift and a pair of headphones on as you go for a toboggan ride down a rapid. I had never really completely understood the allure of VR up until this point, but after finally experiencing it first hand it's clear to see why people are so excited.
Putting on the headset is like entering into another dimension, you can no longer see or hear the world around you. At one point on this ride I purposefully looked over my shoulder to see if it really does work, I saw a rainbow behind me. I think it really does have potential to be special, and that's without even playing it, in a crowded noisy room without it being perfectly optimised.
I thoroughly enjoyed my time at PLAY it! Manchester, and if you've got nothing better to do this Easter holiday then why not head on down and have a gander? I'm sure you'll find something that will twinge the sense of nostalgia for you. PLAY it! Manchester runs from Friday March 25th to Sunday April 17th, at Thee Museum of Science and Industry, Liverpool Road, Manchester. Full details can be found: http://www.msimanchester.org.uk/whats-on/season/power