I spend an unfathomable amount of time listening to things. Every weekday, I'm listening to some sort of audio on my commute, at the gym, at work, when I'm editing videos – so for around 10 hours a day, I have something in my ears. For me, in-ear headphones are preferable, as I like to be able to block out noise without having to increase volumes to dangerous levels, so comfort is definitely important, but audio fidelity is also important to me, especially when I'm listening to music or editing audio/video. As such, I also have to wear several different types of head/earphone to suit different needs.
The Alfa Genus v2 is a set of headphones that promises to deliver everything I need, boasting a massive array of features and accessories to serve many different purposes. Opening up the packaging, there's a ton of stuff to play around with. In the box, we've got a lovely fabric pouch, manual, an incredible number of different eartips to suit every type of ear, and the Alfa Genus' most unique feature: three sets of interchangeable tuning filters.
These tiny filters screw onto the earphones, colouring the output in various different ways. The black pair offer a sound with reduced bass and higher upper mids and treble, the silver pair are for when you're listening to music that commands more bass, while the gold filters offer something in between the two other filters – a more balanced sound overall.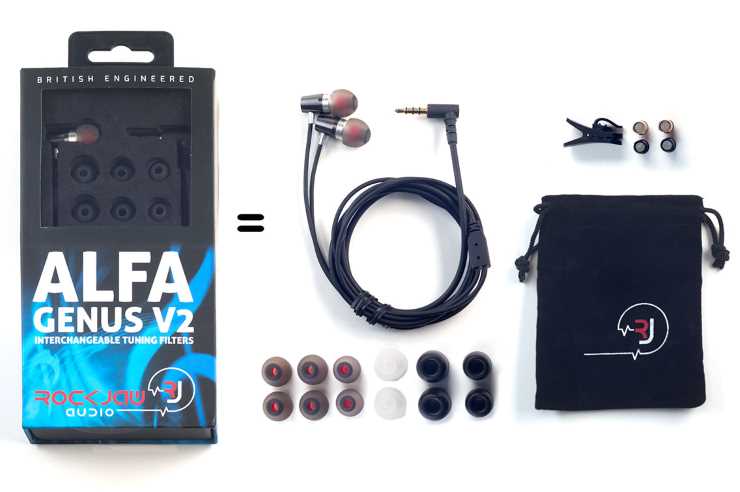 First off, it was incredibly difficult to remove this tiny filters from the packaging, as they're dug far into a piece of foam that cannot be broken into easily without damaging it. Secondly, these filters really are tiny. You probably aren't going to want to take these pieces of metal out and about with you, for fear of dropping and losing them. It does feel like you need to pick your favourite filter and stick with them for the most part. Changing the filters is very simple, as they easily screw on and off the earphones with very little effort (they do stay on very well, although you do have to be careful not to unscrew them when taking the earphones out, or replacing the eartips).
Each of the filters really do make a difference in sound levels, but none of them sacrifice sound clarity. While it would be almost impossible for a tiny pair of earphones to match a big pair of over-ear cans in terms of bass output, it is impressive what Rockjaw has done with the bass filters, offering a nice low frequency boom with all of the electronic music I tested it with. The black treble filters are great for enhancing the brightness in audio, while the golden "Natural" filters are just wonderful for their clarity. I've settled on using the Natural filter for editing work and when listening to podcasts, and the silver Bass filter for music, and it's wonderful to have a set of earphones that suit any sort of audio I throw at it.
As for comfort, the gigantic number of eartips available is incredible. No matter what your preference, the Alfa Genus delivers in this regard. There are three different sizes of standard silicone tips, a small set of double-flanged silicone tips, and two sizes of memory foam tips. I experimented with all of these, and settled for the memory foam tips, which were some of the most comfortable earplugs I've ever put in my ears, and were also great at blocking outside noise.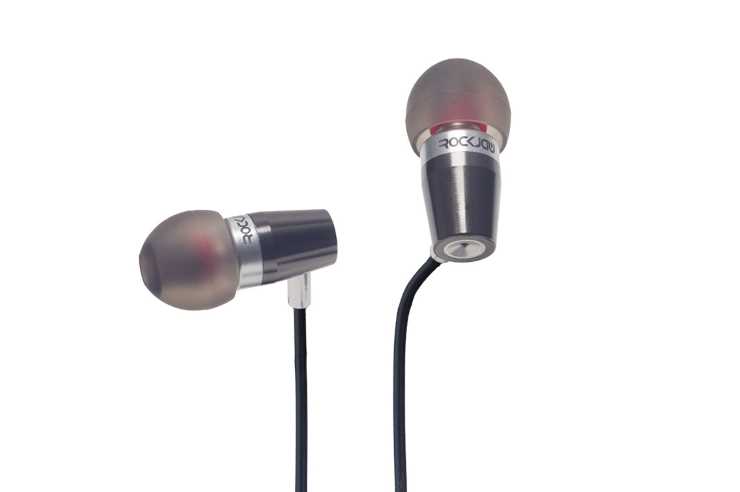 The set I was reviewing also had an inline remote and mic, allowing the wearer to pause/rewind/skip music on their smartphone or even a Mac, as well as letting them take phone calls via the mic, hidden in these controls. As for the headphone cable itself, it relies on a quite thick cable with a right-angled plug, which definitely does a lot to reduce tangling (something that other earphones, especially Apple ones, suffer greatly from), and there's also a removable clip to attach the cable to an item of clothing.
As for the design, while their aluminium casing is light and attractive, they do stick out a little bit more than other earphones, so sometime it did feel like they were falling out of my ears, even if they were in no danger of doing so. They're also magnetic, which does help a little with keeping them tidy.
For around £40-50, the Alfa Genus v2 aren't cheap, but Apple's own in-ear headphones cost around £65 and don't sound anywhere near as good as these. The amount of user-configurable options and accessories contained within the packaging, as well as the quality in both build and fidelity, screams that this is a value product. They're the most comfortable, most versatile headphones I've ever used, and they'll probably be my main set of headphones for as long as they last.
Review sample provided by Rockjaw Audio.