To celebrate Halloween, Rockstar is updating GTA Online with a new motorcycle, spooky themed items and a bloodthirsty new game mode. Plus several vehicles will be on sale for it's anniversary the week after.
The new bike, named the Sanctus, features a skull-studded design to strike fear into the hearts of enemies and passersby alike and will come in the Halloween update this Friday, October 28. It joins the new Lost vs Damned mode, a classic battle between angels and devils with days and nights lasting only 60 seconds and each side granted upgrades depending on the time of day. Some classic Halloween items will also be making a come back alongside special Event Week bonuses.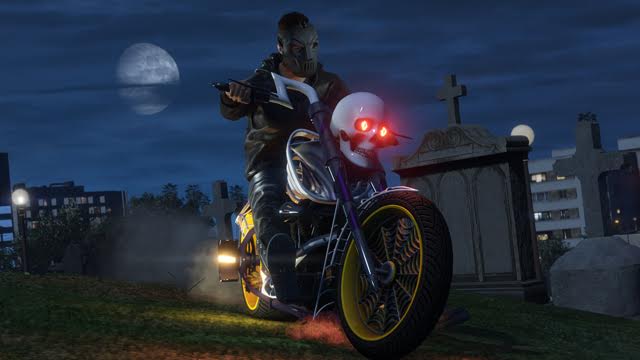 In the week following Halloween, November 1 to 7, GTA Online will also be having a sale on a selection of fan-favourite vehicles, to commemorate it's 3 year anniversary, such as the Aquarius Yacht, the X80 Proto and the Liberator Monster Truck. During this time all players who log in on PC, PS4 and Xbox One will aso receive a free $250,000 gift.
Finally, from today, until October 31, players can take part in "Nightlife" a new non-contact bike race rewarding lucrative payouts and triple RP for the top 3 positions.