I've never understood why people go for a drive when it doesn't serve a purpose. My mum and dad were always keen on going out for a drive to pass the time and escape the boredom of Sunday afternoon telly, and I'd always hope they'd hurry up and drive home so I could get back to doing something more interesting. Even now, my wife will occasionally suggest a trip out, but I always need a reason to go out in the car, like ending in a trip to Harvesters or a park or even a visit to Tesco.
I've no interest in cars, how they work or what their top speed is or how powerful the engine is, I just want them to take me from point A to point B. I've felt this way for some time until recently, but I've started playing Forza Horizon 3 and I feel like a fool. I've been far too single-minded and ignorant to how wonderful it is to drive for escapism, meditation and pure, unadulterated peace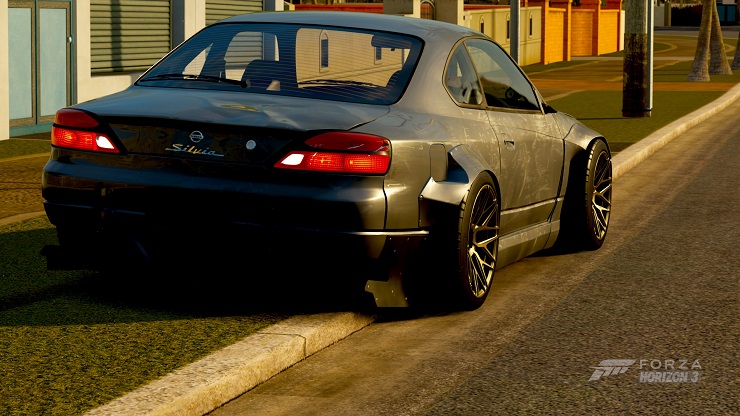 Forza Horizon 3 sees you travel to Australia as the boss of the acclaimed Horizon Festival. It's your job to gain more fans and put on one hell of a show, but so far I've taken a step back. In fact, I've spent seldom time in races or attempting to expand my empire. Instead, I've just been driving and exploring the glorious setting of the land down under, uncovering beautiful waterfalls and the sandy plains of the outback, using the experience to clear my head and appreciate the catharsis of being alone behind the wheel.
With the Horizon Block Party radio station on, and It's Tricky by RUN DMC blaring from my adequate speaker system, I began driving along the smooth tarmac from the sandy beaches of The Twelve Apostles to the serene and dense beauty of the rainforest. There were few cars on the rocky roads between the majestic trees and I found the calm quite satisfying. As I broke away from the flora, I stumbled across such a wonderful site. Standing before me was a glorious waterfall. I parked up, switched the radio off and sat there, listening to the constant thrash of the water falling down onto the secluded lagoon I was fortunate enough to find.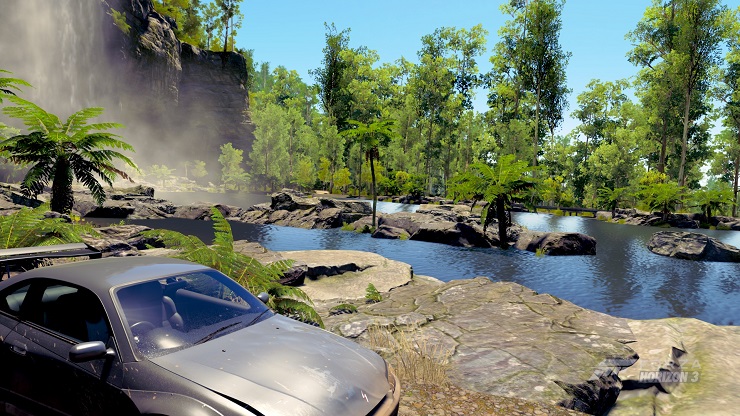 I drove towards the Maroondah Reservoir for a chance to witness the grandeur of it, only to once again stop and take a picture. One thing that constantly stuck out was how beautiful this country was, and how impressive every inch of this map was. I drove through Kiewa Valley with my sights on the great Australian outback. With my foot firmly on the pedal, I headed towards the Pink Lake with a thirst for speed and complete freedom.
The Pink Lakes were where I let it all go, speeding through the water with reckless abandon and a complete disregard for anything. Water ripped through the air as my tires disturbed it's peaceful slumber and the mud and dirt covered the camera. After driving quite calmly up until this point, it felt good to let loose a little and enjoy the speed and control Forza Horizon 3 manages to give you even at great speeds.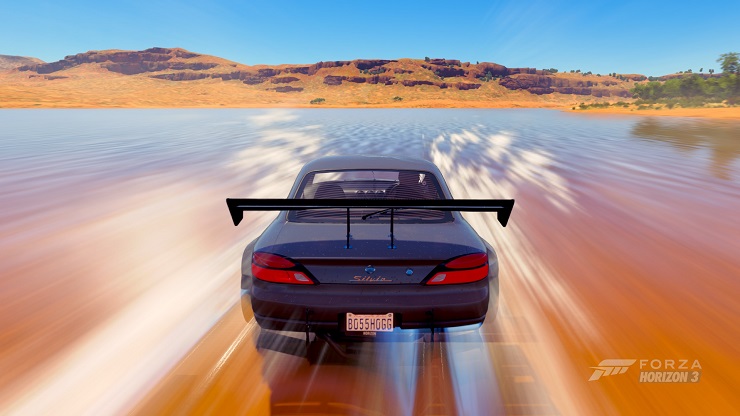 On my way to the city by Surfers Paradise, I stopped off by a general store and grabbed a photo of how much detail had been put into a set of buildings I could never explore. It felt like a ghost town – an abandoned pocket of civilisation that I'll never know who inhabited it. It was just another example of how much work Playground Games had put into the littlest of details – a seemingly insignificant section of Australia that still played a role in the game's stunning visuals.
As I arrived in the city, the sun shone down and reflected off the tall windows of the big skyscrapers, along with illuminating the excitement and carefree attitudes of all of the surfers and beach dwellers. This was a city like no other; every street had so much detail and I was in awe of how alive it felt. I just wish I could have gotten out of the car and joined all those having fun underneath the watchful gaze of the glorious sun.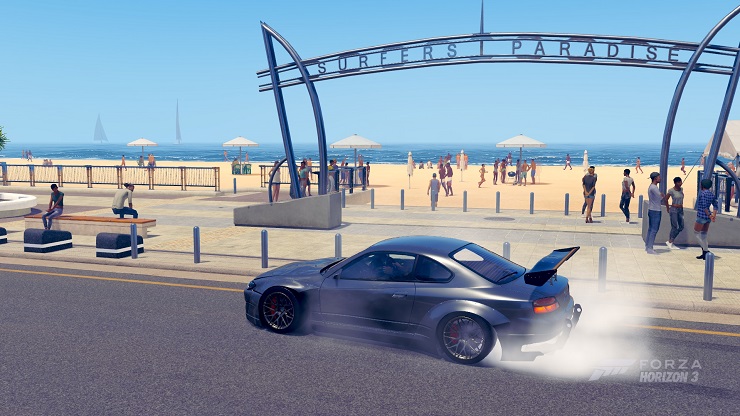 Forza Horizon 3 is a visual masterpiece, possibly the greatest of all time. I've yet to race anyone, do anything other than drive across the marvellous landscapes of a beautiful country. If you want a game you can get lost in and find some of the greatest locations you're ever likely to see in a video game, then Forza Horizon 3 is for you. I'll continue to play, enjoy and drive for the freedom and serenity it bestowed upon me.