I heard about Quote a few weeks ago now, but from the first few images and bold opening sentences on the game's website, I couldn't help but become massively intrigued.
"Burn every book. Kill every author."
It's an action-RPG focusing on a young girl called Novella, who starts to serve the God of Ignorance – the evil and weirdly deformed Bliss. You see, Bliss has lost all hope in the power of science, words, creativity, and revolution born out of a powerful piece of literature. As her priestess, you are tasked with vanquishing the warped and twisted world of knowledge. There's also an interesting angle to the story regarding your sister, and the relationship you both have and how it'll impact both of your destinies.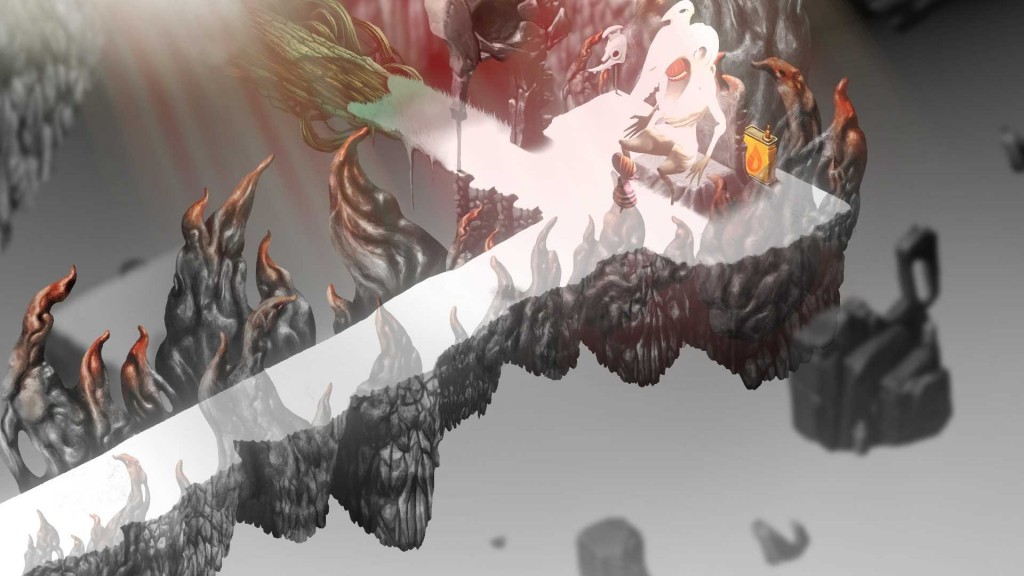 So what do you do? Well, there are lots of letters scattered around made up of different colours like pink, yellow, and blue. If you collect every letter of the same colour, a completed quote will form inside the sacs within your brain. There are caves located around your isometric map, and by having complete quotes, venturing into the caves will be a lot easier if you found every letter. Inside caves, you'll find books, and your weird birdman buddy called Tatters will eat them up.
By gorging on these novels, you'll become more powerful and also learn new abilities. If you digest multiple books, you'll earn more advanced abilities. As Novella, you can punch and push your enemies. At first, the playing field feels pretty basic, but when you become stronger and unlock the book of Bliss, things get much more interesting. By using this book in battle, you'll be able to do a lot more damage (plus it looks cool, too). Trinkets can be found around the world, and these can help solve quests, or add additional buffs to Novella. Speaking of quests, there is the main story to follow, but there are also quite a lot of side quests, mainly aimed at ridding the world of knowledge.
The design is right up my street – in fact, it's so far up there it's practically in my living room. It's gorgeous, taking its cues from the works of Bosch (especially Descent into Hell), and finding inspiration from literary heroes such as Bradbury and Gaiman. There are forests draped in fantasy, caves filled with random imagery (like a triceratops skull), all coloured and hand drawn to the highest of standards. It's so unique – not just in the aesthetic, but also in the way you play.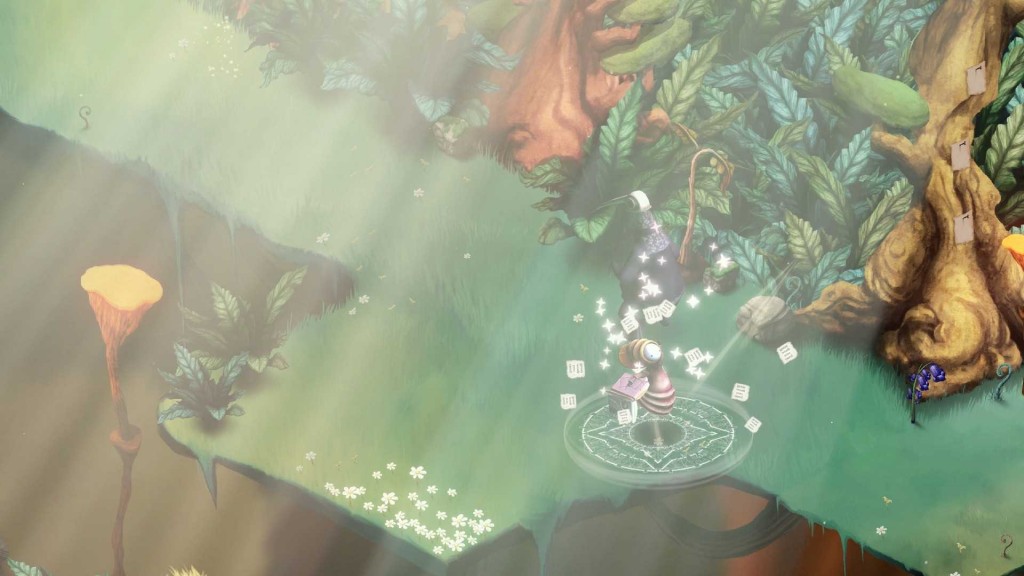 I only had a chance to play a few chapters of the main game, but it won't be long before you'll get a chance to explore this wonderful world yourself. It reminded me of the happiness and excitement I felt when watching Labyrinth, and has all the magic of those fantasy novels you read as a child.
It teaches a good lesson about the importance of free will, the need to learn, and the growth and belief we have in knowledge. Read a book, learn a new language – find happiness in your ability to be a better human being through knowledge. Reading is a huge part of my life – especially poetry, and without it I'd not be the person I am. Writers like Charles Bukowski, W.B Yeats, and Sylvia Plath have helped to shape my adult life, and if I had someone rid the world of my freedom to pick up one of their books, I'd be devastated.
Give Quote your time. It has an eerie, haunting world, with some of the nicest artwork I've seen in an action-RPG. There are a lot of ideas I've not really seen anywhere else, and if you're a fan of games such as The Unfinished Swan, this should certainly be on your radar.