The ID@Xbox program is a great initiative to help independent developers self-publish their own games via Microsoft Windows and Xbox One, by providing free dev kits, access to the Unity engine, and more. I was in London recently to see some of the games currently part of the program, and I have to say I was mightily impressed. After a brief introduction from Europe's Head of ID@Xbox, Agostino Simonetta, I got to play four of them, feeling like a kid in a digital candy shop of sorts, mainly because some of them had been on my radar for a while.
Tacoma
Tacoma is the newest game from Steve Gaynor, and boy does it look promising. You're wandering around the Tacoma space station, trying to work out what happened there by replaying audio/video logs in the same vain as the silhouetted memories of Everybody's Gone to the Rapture. From the brief demo, something large ruptures the station and causes an oxygen leak; it's eerie – mainly because it's in space, and you know, in space there're aliens, and a complete sense of exclusion from any kind of life outside the crew.
There's an AI on board, and you know what Artificial Intelligence can do in space, right? There's nothing to suggest it goes rogue or becomes self-aware, but there's definitely a reason to be a little cautious. I'm looking forward to see what secrets the Tacoma station holds, and I'm also looking forward to learn more about the crew.
The station has a great aesthetic, and the scale is pretty impressive. Hallways are small and claustrophobic, but a glance through the portholes sees the abyss and infinite scope of space; I can't wait to see more, mainly because of what Fullbright did with Gone Home, and judging by the way its story stuck with me, I'm intrigued to see what Steve can do in a science fiction setting.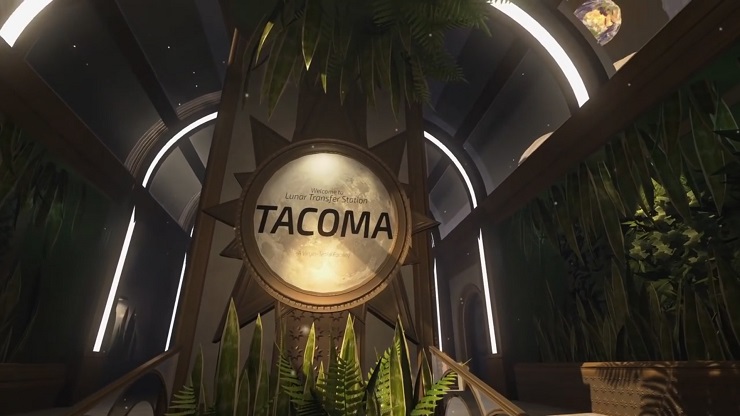 Snake Pass
I wasn't expecting to love Sumo Digital's physic-based platformer quite as much as I did, but there's a definite homage to the 3D platformers of old, and this made me smile. Snake Pass is colourful, and has a nice movement system in place. The object of the game is to collect different items, such as coins, blue illuminated boxes and other glowing artefacts by moving the snake around tubes, trees, steps, and other obstacles.
To get the snake to go where you want to go, you have to move him from left to right in succession, which then gains momentum for you to lift your head and start to wrap yourself around a platform, or reach a higher platform. It took me a while to get used to it at first, but after a while you're soon using the environment to get to the next collectable. I'm not sure how difficult it'll get, but I can imagine levels getting a lot trickier, and in all honesty, I think this will grab people's interest.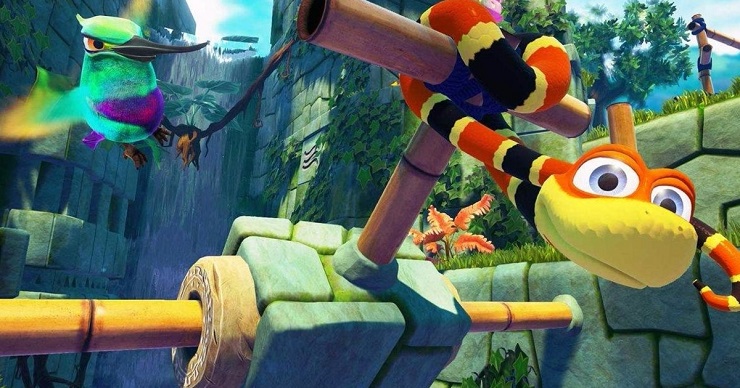 RUINER
RUINER is an isometric twin-stick shooter that's as brutal as it is relentless. Whilst there wasn't a lot to see, it's clear that Reikon has been inspired by the likes of Hotline Miami, with a wonderful cyberpunk style. You've got plenty of guns and melee weapons to choose from, and you'll have plenty of options to do so. As the words "KILL THE BOSS!" kept flashing up on the screen, you feel compelled to keep going, keep shooting, and make your way through the frantic and unnerving facility that you find yourself in.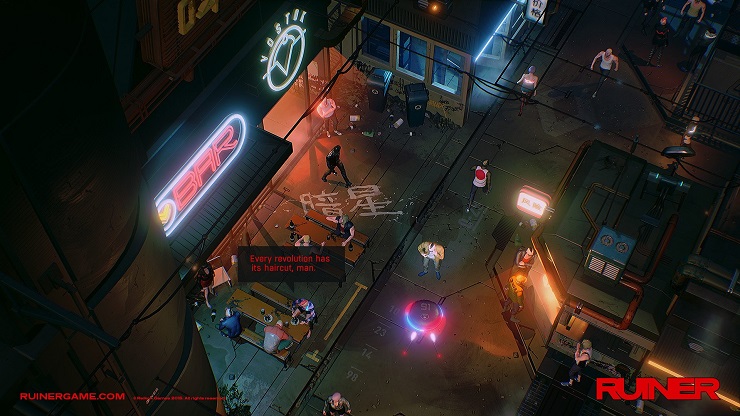 Aaero
Of all the games at the ID@Xbox event, Aaero was the one that really stole my heart. Here's a game that raises the hairs on the back of your neck, and genuinely gets your blood pumping; created by Mad Fellows, Aaero is a twin-stick rhythm shooter where you control a little spaceship through some bass-heavy tracks. The left stick controls movement, and the right stick allows you to shoot the aliens that populate the screen; it's a game clearly inspired by Rez Infinite, but instead using what made it great to give new life to a dwindling genre.
As the song goes on, you'll have to move the ship along illuminated lines (much like a track in Amplitude) and mimic them to hit the segments of a track. Once these moments stop, you're faced with various enemy crafts, and by moving the cursor over ships with the right stick, you'll fire missiles at them. I also got to try a boss fight, and along with hitting the lines and shooting the aliens, you'll have to try and take out gigantic bosses as well; I was up against a massive worm, and he was pretty tricky to take out, albeit lots of fun at the same time.
The music is sublime, the controls are easy to get used to, and the ideas at play are unlike anything else around at the moment. We've had Amplitude, Thumper, and Rez Infinite out over the last 18 months or so, but I believe Aaero can top every one of them; it'll be interesting to see what the complete soundtrack will be like, but I had loads of fun trying to hit every beat of Katy B's 'On a Mission'.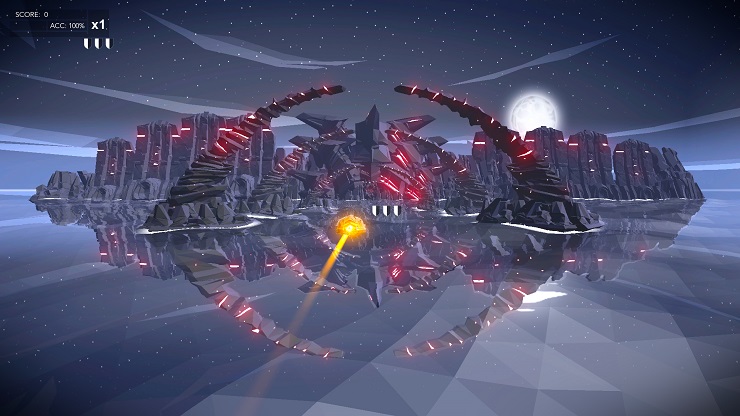 With more games coming out via ID@Xbox in 2017, it's certainly an initiative you'll want to keep an eye on; whether you're intrigued by Aaero or Tacoma, there're plenty of other games such as Cuphead, Rime, and Thimbleweed Park all scheduled to come out this year. As always, keep your peepers on God is a Geek because we'll be covering them all.