It used to be that Bluetooth earphones were cumbersome, oddly shaped and corded together. Thankfully, probably in no small part due to the launch of Apple's EarPods, we're seeing a swath of new smaller, fancier BT earphones hitting the market lately.
1MORE Stylish True Wireless Headphones recently launched with an retail recommended price of $99.99. That's half the price of Apple's EarPods and their Beats alternatives. So we took a look to figure out how they stand up to the competition.
Can we be slightly pedantic here, too? Headphones are to be worn with a strap over the head. Earphones are to be worn in-ear. These are clearly earphones, and that's something to celebrate. We're not sure about the 'headphones' branding. In fact the naming seems a little off altogether, '1MORE Stylish True Wireless Headphones' doesn't exactly roll off the tongue. For the purposes of this review let's stick with 1MORE wireless earphones.
Available in black, gold, green and pink the 1MORE wireless earphones come with a petite charging pod that is incredibly easy to use and looks brilliant. In the shape of a tablet, you simply pop in your earphones and they magnetically click into position. There's a button on the front of the pod to open it and it gives a satisfying little click when you close the lid, that adds to the overall feeling of high quality of the package. However, the charging slot is micro-USB instead of USB-C, this makes it feel a little out of date. Anything released in 2019 should really feature the newer universal USB-C slot, otherwise anyone buying these earphones for a modern Android device will need to have two different charging cables, which is not ideal.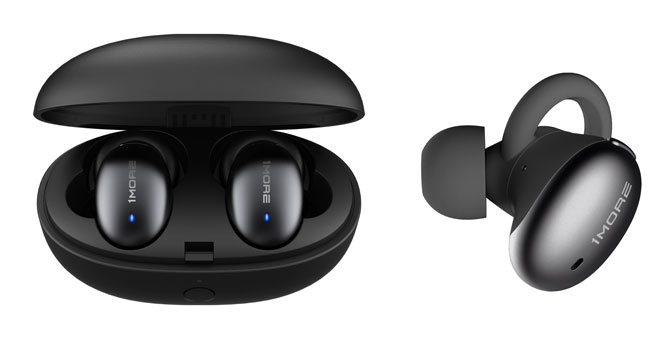 Pairing the earphones to your mobile device is really easy and just takes a moment, once done they automatically pair themselves every time you pull one out of the pod. You'll hear an audio confirmation "Connected" as you place the earphones into your ears, after a little audio dit and a notification of your current battery status, i.e. "battery high".
In terms of battery life, these things are absolutely amazing. Fast charge the pod in just over an hour and it'll re-charge your earphones for upto 6.5 hours use. With 15 minutes of re-charging you get 3 hours worth of play time. That's quite something, and means you don't need to charge them up at the wall on a daily basis.
Audio quality unfortunately leaves a lot to be desired. The sound is quite tinny, with no bass whatsoever. The earphones are fantastic for voice calls and listening to podcasts with, but for music they're quite frankly disappointing. This is a surprise as they're tuned by Grammy award winning sound engineer Luca Bignardi. Background noise-cancelling features on the microphone comes in handy though. The volume is nice and loud, and it's very easy to play/pause new tracks by either tapping the single button or double tapping for access to Siri / Google Assistant. The button is very intuitive and the earphones will turn themselves off the moment you place them back into their pod.
Unlike some competitors, the 1MORE wireless earphones can be used in the singular, you won't need both ears in place in order to stream music. You can of course also split the earphones for cooperative listening with friends.
These earphones are comfortable and stylish (hence the name), and relatively cheap. If you're looking for some wireless earphones for listening to podcasts and/or making phone calls, we highly recommend these from 1MORE. However, if you're a music aficionado these might not be the buds for you.
[Update]
We're very happy to correct this review, because it turns out that these earphones actually have fantastic bass. This reviewer however has particularly small ear canals, resulting in a less than satisfactory seal between ear and earphone, causing a loss of audio quality. With some replacement (much thinner/smaller) earbuds full audio quality was accomplished, including bass!