Tate Multimedia has today announced that Voodolls, the tower defence game, will be release on Steam on April 13th. Developed by SideRift, Voodolls can be played via four-play online co-op, or in single player mode, though the team says it is "designed to be played with friends".
On top of that, the game is part of the Steam Next Fest, meaning there will be a demo (you can grab it here). This release date news comes after the developer and publisher announced last month there would be a closed beta ahead of the April release date, which has now come and gone.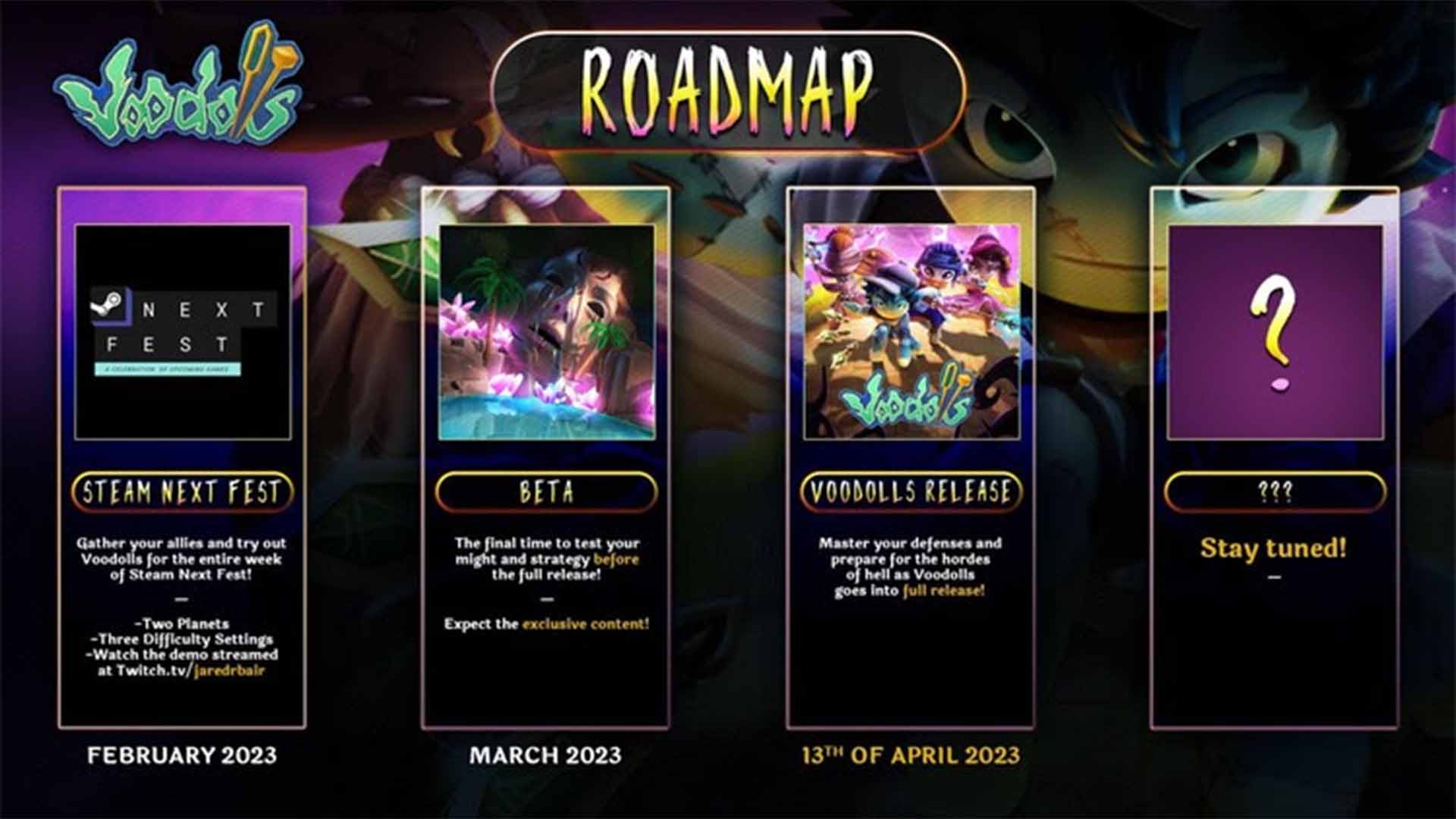 As you can see from the image above, the roadmap is laid out now, with the Next Fest demo out now, a final beta planned for March, before the April 13th release date. There's more planned though, it seems.
Here's the official word on what the game is all about:
Designed to be played online with friends, Voodolls charges players with fighting for their freedom after their souls are trapped in hell. Offered the chance to escape by a mysterious Puppet Master who distills their essence into Voodolls, play takes the form of intense co-op tower defense battles across 12 planetoid stages featuring three difficulty modes and an endless mode, with the goal being to hold back wave after wave of enemies keen to keep you captive.

Working together to defend the Puppet Master and, in turn, keep your hopes of escape alive is the order of the day, with each doll coming blessed with unique abilities that, when combined, are the key to victory.
There's also a brand new release date trailer, viewable below:
"Voodolls will be the first third-party we publish at Tate Multimedia, and we couldn't be more excited about it," says Magda Schwarzer, Head of Marketing at Tate Multimedia. "It's fantastic to be able to work alongside a talented studio of young creatives who are living out their collective dream right now. This is exactly the kind of developer we want to work with moving forward."
Voodolls is coming to PC on April 13th.