Although I didn't get to spend a lot of time with Alaskan Road Truckers, I saw enough to know this is my kind of game. A chilled out journey through the gorgeous snowy plains of Alaska, hauling goods from one place to another, living the trucker life as close as I'm going to be able to do. Every facet of your job from maintaining your truck and yourself, to obeying the rules of the road in tricky weather conditions are there, but the pacing might not be for everyone.
In my short stint behind the wheel, I was able to become familiar with the fundamentals. Before setting off in the truck, I prepped some food in the oven so I wouldn't go hungry, then grabbed my tools and some other common items I was going to need. You'll have to manage your hunger by eating, your energy by sleeping in the back of your truck, and the temperature by turning on the heater in your truck. They're simple survival mechanics, but a nice addition to simply driving from point A to point B, and each time the three factors get low, there're certain tells that make you aware.
The sleepier you become, the longer the screen goes black as you blink. When it gets colder, the screen gets covered more in frost. These nice visual cues help you to rest, replenish, and warm up. While you're managing your own needs, you'll be looking after your truck. Filling up on petrol and motor oil were also something I had to factor into my journey and when buying supplies at the local store. I'm looking to get stuck into more of these intricacies when the full release drops, as there seems to be plenty more for you to manage as you make your way across Alaska.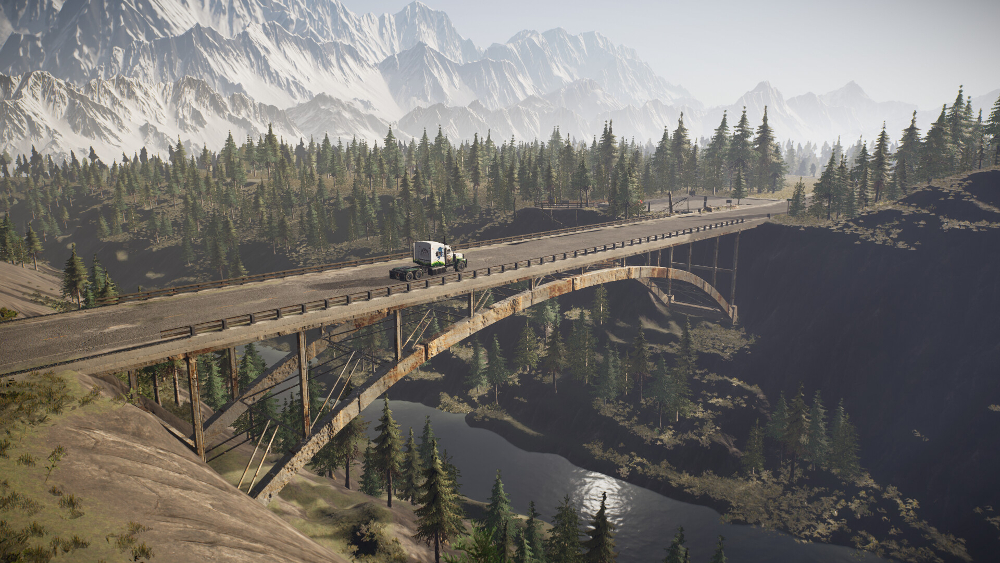 You have to do everything when driving, such as pressing the ignition and turning off the handbrake, opening the door, using the radio, and a whole manner of other things. When you hook up a trailer, you have to reverse into it, connect certain cables and unhook the metal frame that keeps it in place. There's a fair amount of repetition in these menial tasks, but if you fancy role-playing Alaskan Road Truckers within an inch of its life, you have all of these options available.
It's a pretty game, especially when you start to travel through some of the rural areas, where you're close to a river and snow-covered trees in the early evening. Some journeys were long, but I enjoyed how chilled out it felt. It'll be interesting to know just how long some of the missions are, and if you're travelling for any longer than 30 minutes to go somewhere, it might put people off. Gamers in today's day and age are less patient than they used to be, but if you're willing to take in the beautiful views, it can be rather rewarding.
Alaskan Road Truckers has some cool features, especially with how much control you have over your truck and taking it out on a cargo run. I didn't get to see a lot of the missions or experience the snowy storms, but I enjoyed how much freedom you feel when out on the road. I hope there's some variety in the missions and they aren't all about going from one place to another. Although my time was short, I'll be revisiting when the full game is available to me, ready to take on the harsh winters of Alaska.
Alaskan Road Truckers is coming to PC on October 18th.