Working in a busy, loud environment, or trying to relax in an active household can be equally difficult, even with earbuds or headphones. Often, simply turning the volume up isn't enough, and some kind of noise-cancelling feature becomes not only desirable, but essential. The 1MORE Aero noise-cancelling true wireless earphones are perfect for either environment, and more besides, offering comfort, functionality and longevity.
The 1More Aero in-ear buds look great out of the box, too. They're available in black or white, though the black are preferable for work environments. They have long stems, and comfortable buds that come with a range of switchable sizes. They feel incredibly lightweight in-hand, which adds to the comfort when wearing them – although if you are using them for anything that requires over-ear protection or even headgear, you may find them uncomfortable.
If there's an issue, it's that the control system is both unintuitive and too easily triggered. Taking one out will pause the playback, but then often simply putting it down somewhere will restart it. You can activate the ANC (Active Noise Cancelling) function by pressing on the right ear, but it doesn't ever seem to respond immediately, often leading to me over-pressing and deactivating the ANC altogether. They have an incredibly sensitive touch point on both earbuds, and even adjusting the volume can be slightly problematic.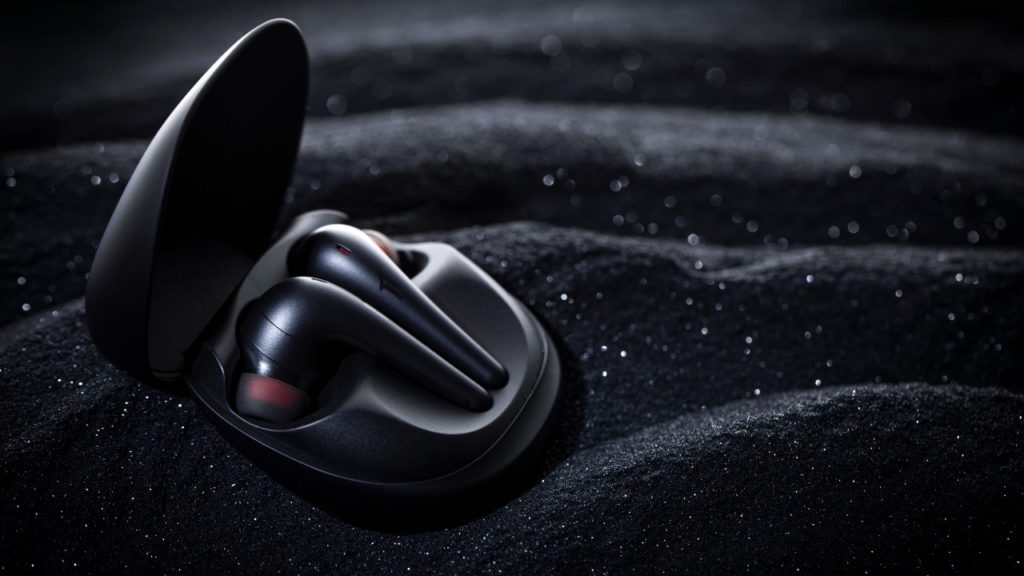 Yet, this is a fairly minor complaint in the grand scheme of things. The Aero earphones are great for working, relaxing, walking, running or working out. I've tested them with my Android phone, laptop, and Steam Deck, and had great output from each. They pack 10mm dynamic drivers, delivering high quality sound that you can further customise with the 1More Aero app. It's worth noting that you can also tweak the touch controls with the app, should you feel the need to do so.
The ANC is superb, though, offering three different modes and a suite of others programmable with the app. The primary mode is Adaptive, which is ideal for day-to-day use in normal environments. Strong mode will reduce most incoming sound to deliver a higher quality experience and aid concentration in busy environments. There's also a pass-through option called Transparency mode which enhances incoming noise when you need it to.
The Aero earbuds also boast a decent volume level that maintains audio quality even at maximum, although you may find them lacking in the bass department. They just don't quite manage to deliver the deeper bass that some music tracks require, though again, this is hardly a deal breaker. You can always adjust the EQ levels either on the device or via the app, so it's worth experimenting to find a level that suits you.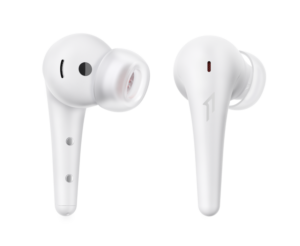 In terms of battery life, I've found the 1More Aero earbuds to be pretty impressive. Even with the ANC in Strong mode I've clocked 4 to 5 hours of battery life before needing to recharge them, which is very decent. I'm also a big fan of how they look, and how easily they pop out and clip into the case.
If you're planning on using them outside, you're covered by a decent level of water resistance, too. They'll handle sweat or rain, and will only falter if you drop them into a body of water. They charge through the case via USB, however, and the case isn't waterproof. You'll need to be aware of this to avoid any damage to the charger.
Overall, the 1More Aero noise-cancelling true wireless earphones are a solid choice for anyone looking for quality sound plus a robust ANC feature. The touch controls aren't great, but they offer a range of EQ options via the app and a solid array of customisable options for both the ANC and the touch controls. You might shop around and find better alternatives for the price point, but in terms of looks, functionality, comfort and battery life, these are more than worth a shout.
Positives
Great sound quality
Superb battery life
Good looking
Negatives
Awkward touch controls
Reliant on the app
The 1More Aero noise-cancelling true wireless earphones are a solid choice for anyone looking for quality sound and robust ANC.