Release Date
October 24, 2014
Animal Crossing has held somewhat of a monopoly over the life simulator genre for some time, especially on handheld consoles. Other games such as Harvest Moon and Rune Factory used to have a reasonable market share, but those titles have slipped in recent years leaving a definite gap for a pretender to the crown. Disney Magical World is as close to a Walt Disney version of Animal Crossing as you are likely to ever see, and with the name power of Mickey Mouse and co behind it, could actually pose a threat to Tom Nook and company.
After either importing your Mii or creating a new avatar, you enter Castleton; the Princess-castle hub for all activities in the game. Just like Disneyland itself, various forks lead away from this central hub, towards new and exciting lands of adventure. Magical World holds your hand through an extended tutorial which, whilst lengthy, does a very good job of teaching you the majority of actions and options that will be available as you progress forward. Each step along the way unlocks stickers, and the more stickers you have; the more unlocked new locations and worlds you'll see, and each are populated with more of your favourite Disney characters to greet.
"My Castleton villagers
have already put up their
Halloween decorations"
Actions range from the basic, such as greeting residents of the town and helping them with fetch quests or gathering source materials scattered throughout the game world, all the way to managing your own Café and fighting ghosts to protect innocent villagers. The café contains several of its own mini-activities, including quest lines, decorating the building, dressing your employees, and deciding upon (and cooking) your own menu items for sale. Thinking about the sheer amount of activities in the package makes you realise just how much there is to do. Thankfully, these actions don't have hidden time gates as some other games of the genre do, with building and cooking being instantaneous. The only thing you have to wait for is plants to grow, which is understandable and usually only takes around five or ten minutes.
And I haven't even touched upon pastimes such as fishing, the rhythm-action dancing mini-game that owes a lot to Elite Beat Agents, or farming your own crops. But Magical World really pulls together a lot of elements from a variety of its stable-mates, offering a robust and varied selection of tasks to carry out. The ghost sections are the only action-orientated gameplay sections, and whilst not particularly challenging, they provide a series of short and sweet scenarios to play through. Players must manage their magical power and energy, whilst also making use of special attacks to dodge and attack against a variety of foes. Despite the one button attack system, these stages are surprisingly fun.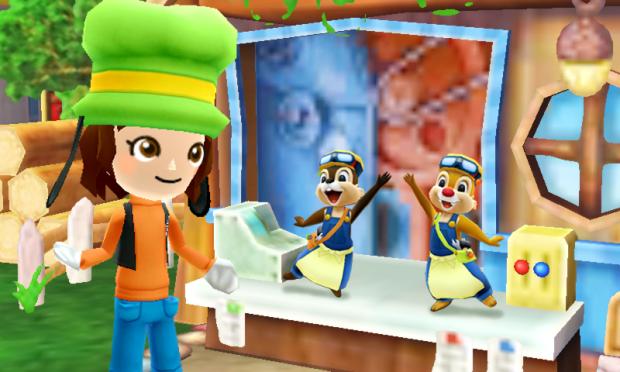 Just like Animal Crossing, there is a multiplayer element where you and your friends can visit each other's villages and check out their café. There isn't much to do in this mode, but the simple pleasure of sitting with a friend and fishing is a nice change of pace from most multiplayer titles. You can also gain special items through linking up with other gamers online, and that is only the start of the collectibles on offer. The stickers track your progress through quests, while at the same time giving you objectives to work towards. You can get collectible trading cards by returning to speak to Disney friends regularly each day, and you can make a photo album of pictures taken with your favourite characters. On top of that, Magical World supports AR cards, allowing you to gain access to unique and seasonal items when scanned from the internet.
The graphical presentation is very appealing, as you would expect from a Disney title. It successfully blends cutesy Japanese elements and Nintendo Miis with nicely-rendered 3D versions of classic Disney favourites. One nice touch is that the changing of the seasons in real-life will effect the game too. Now that the summer holidays are over, my Castleton villagers have already put up their Halloween decorations. Small things like this really add to the immersion, and made me want to carry on playing so that I can collect the raw materials I need in order to sew myself a Jack Skellington outfit in time for October 31st.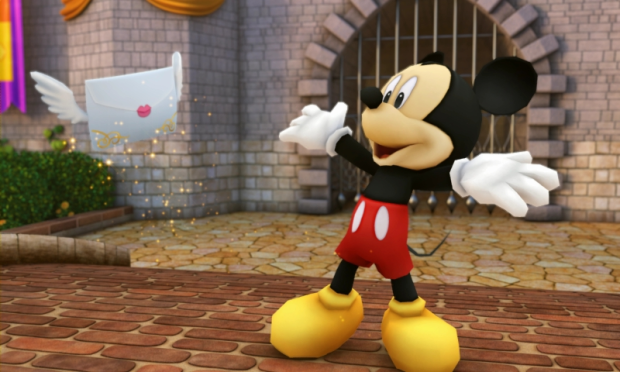 The activities on offer can get a bit repetitive eventually, but this is a life simulator and life is, by nature, repetitive. There are a good number of different tasks to take part in, and the sticker unlocking system means that there is always something to work towards and new areas to access. Whereas the simulation may lack depth (you won't be able to adjust your prices or design your own buildings), the simplicity is relaxing and allows you to play the title your own way. You can dip in and out for daily short fixes of gameplay to check-in on your affairs, or you can hang around and work through your various tasks, collecting as many stickers, cards and photos as possible. Disney Magical World may not be revolutionary, but it feels like an evolution of the Animal Crossing model.
Review code supplied by publisher.
Positives
Lots of different fun activities to participate in
Sticker system gives you objectives and goals to worn towards
Interact with and befriend all of your favourite Disney characters
Negatives
Management elements are somewhat shallow
Multiplayer features are limited
Magical World isn't just Animal Crossing with Disney characters - the additions and refinements make the experience so much more than that.