Release Date
March 24, 2016 (JP)
August 30, 2016 (NA/EU)
How must it feel to be the world's number one virtual diva? Can an idol with a completely synthesised voice transcend their expressive limitations and truly command a stage? There's only one person who can answer these questions, and that's turquoise-haired singing sensation Hatsune Miku. Her latest outing, Project DIVA X, offers a refreshing twist on the series' regular formula by adding a sort of visual novel-like structure throughout that gives you a personal insight into the Vocaloids that make this game so unique.
Taking place within a virtual world made up of various types of Clouds, Project DIVA X is the first game in the series to divide tracks based on their Aura. Miku and friends are tasked with restoring the vitality of each Cloud by expressing a certain aura, either Cute, Cool, Classic, Quirky or Elegant. Performing in aura-related modules (outfits) and accessories can boost your scoring potential, and the aim is to collect Voltage — an energy that reinvigorates the clouds and restores them to full vitality. Once a Cloud has been almost recharged, you can perform a medley of classic songs which acts as the grand finale of each section.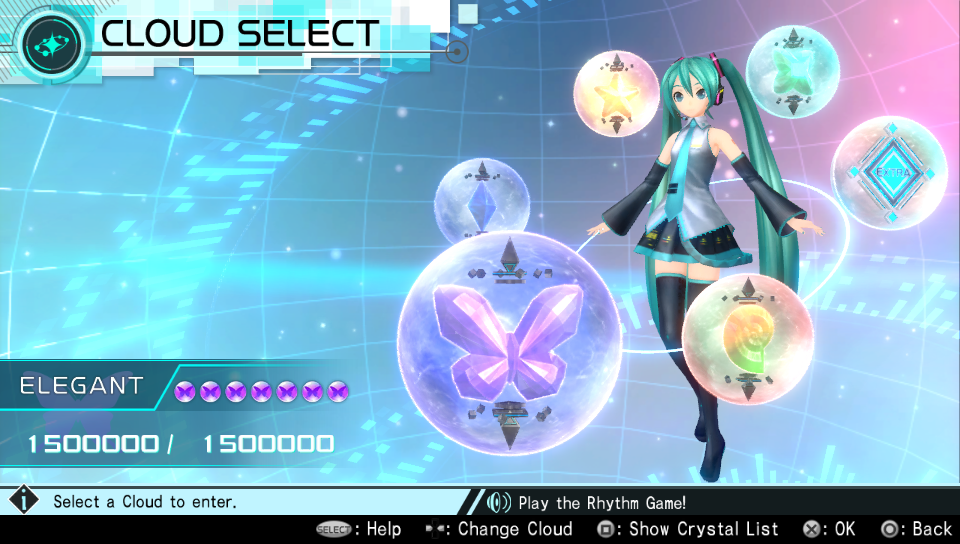 Those with previous experience of Miku's charm will either find the inclusion of dialogue and character development heart-warming or obstructive. She pleads with the player to help her restore every Cloud in her virtual world, asking for tips on how she can exude a more Elegant aura or become quirkier. These skits also feature the other Vocaloid characters that have made a name for themselves in the Project DIVA series, with Kagamine Rin, Kagamine Len, Megurine Luka, KAITO and MEIKO all making an appearance. While not revolutionary or exactly required (previous games have fared just fine without it), I think these scenes work well by adding a new level of depth to the faces we've come to know and love in previous instalments. Vocaloids are impersonal by nature, exerting a mechanical undertone no matter how much they have been dressed and altered. By adding this visual novel style, Miku and friends are less likely to be viewed by newcomers as robotic shells, but as substantial, endearing characters. However, there will be those who just want to get to the songs, which is understandable.
As always, songs must be played on Easy or Normal first before being unlocked on Hard or Expert difficulty. This can be rather frustrating as a returning player, as Normal doesn't exactly present much of a challenge after two games' worth of success. The inclusion of Voltage as the main scoring factor changes the dynamics of Project DIVA X ever so slightly, with new Rate Up notes appearing which boost your total Voltage is landed successfully. Wearing aura-relevant accessories and modules will also boost your Voltage level, giving you a percentage bonus at the beginning thus making it easier to max it out. These accessories are earned by exceeding the Voltage goal, and you can earn up to 3 goodies on Normal, 4 on Hard and 5 on Expert.
Chance Time has also been revamped and now transforms the main performer into a brand new module mid-song, making collecting outfits a much more delightful task. Various songs will have corresponding modules which perfectly match the backdrop, making stage and performer seem that much more in-sync. Character customisation has now been included as an integral part of the game, with players being able to choose their modules and accessories before every song, making the process more streamlined and understandable.
As for songs, there is undoubtedly something for everyone. Songs such as "Satisfaction" sound as though they've been pulled straight from the charts while others such as "Amazing Dolce" and "Coward Squadron Urotander" bring the quintessential DIVA eccentricity. One track that's no doubt going to throw the cat amongst the pigeons is "Holy Lance Explosion Boy", the catchiest and most explicit song in the entire game. Performed by the 14-year-old Kagamine Len, it details Len's sexual exploits and how he accidentally got a girl pregnant, even featuring the lyrics "I'm coming, you're coming". As stunned silent as I was on my first play through, the song is pretty unique and adds a bit of scandalous edge that we're not used to seeing from SEGA.
Medleys are perhaps the highlight of the new additions, featuring a mix of classic Project DIVA songs as well as new tracks that blend well with the varying auras. "Elegant Medley: Glossy Mixture" features racier songs like "Sweet Devil" and the thumping "Dependence Intension" while the "Cool Medley: Cyber Rock Jam" offers up the slick "Unhappy Refrain" and "Tengaku". The high point of the entire game is by far the Ultimate Medley, the final song unlocked after gaining two of every Cloud crystal, which does so much fan service that I'm still not over it. Featuring Miku's most iconic hits such as "The Disappearance of Hatsune Miku", "2D Dream Fever" and "Two-Sided Lovers", it is the perfect finale and incorporates the tracks that have made the series so successful into a single, supercharged medley. Not to mention that Ultimate Miku module. Damn.
Miku has also never looked better on PlayStation 4, with her performances appearing smooth and stylish thanks to the 60fps/1080p upgrade. Unlike previous titles, Project DIVA X sees Miku take to a range of wonderfully crafted stages to break it down, rather than showing off in animated music videos. This helps to create a more unified experience, as music videos in f and f 2nd sometimes felt a bit disjointed and detracted from the otherwise well-rounded affair. The focus is more on Miku's dance moves and stage presence rather than weird camera angles and facial expressions — a shift which truly trumpets the often spectacularly choreographed routines.
Truly magnificent rhythm games on PlayStation 4 have been a rarity, with PS Vita getting most of the beat-tapping love, but that has all changed. SEGA has managed to diversify the structure of the series, with the introduction of visual novel-style cutscenes allowing new players to appreciate these Vocaloid characters as more than just voice software. The songs are some of the best we've heard in the series, and Miku's upgrade to more powerful hardware makes her performances burst with radiance. If you're a fan of rhythm games, Japanese culture or just looking for a bit of fun, Project DIVA X is the game for you.
Positives
Great songs
Character cutscenes add depth
Visuals are spectacular
Medleys are a highlight
Negatives
Restricted to Easy/Normal on first play through
Cutscenes won't be for everyone
Miku has never looked better in her jump to PlayStation 4, with Project DIVA X delivering an array of show-stopping songs and performances that make her latest outing her best to date.