Release Date
September 1, 2015 (NA), September 5, 2015 (EU)
Can you remember a time at school when the maths teacher read out an equation so complicated that you felt completely out of your depth, yet you still nodded along with your fellow peers so that you weren't singled out as being the inferior student? Well, take that feeling of utter disorientation and multiply it by ten, and you'll begin to understand how I felt when I first began to play Nobunaga's Ambition: Sphere of Influence.
For a good two to three hours, I struggled more than I ever have before with any game, ever. The tutorial threw so much information at me that the frustration was unbearable and I had to play through it twice just to grasp the basics of the game. Don't get me wrong, I'm familiar with a wide range of strategy and simulation games. I played the hell out of the Command and Conquer series and many others like it, but this was on another level.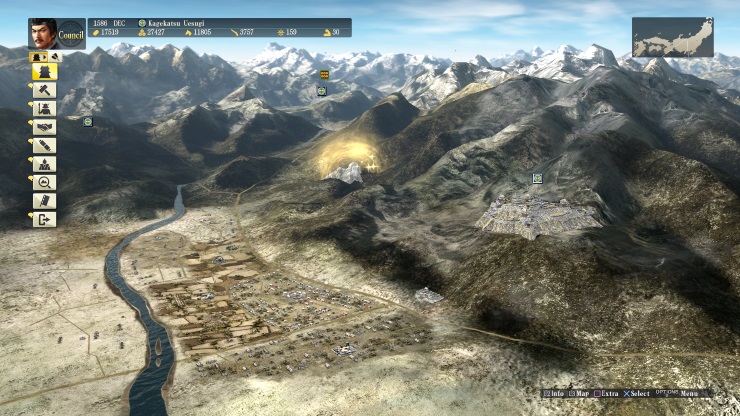 It is rich in intricacies and intrigue, burying the players in hundreds of options and hours of dilemmas with rare chances to breathe. Once the smoke had settled, I began to learn from my mistakes and retain much of the knowledge that Masahide Hirate had bestowed upon me. I found that the game had one of the hardest learning curves I had ever encountered, but the gratification in seeing your settlements grow from nothing was hugely satisfying. I wouldn't call the experience fun, but I don't know if that's a particularly negative thing.
Koei Tecmo has created a game that fans of the series will not only love, but will spend many hours in trying to rebuild a war-torn Japan during the Warring States period of Japanese History – and not bat an eye at the overtly complicated structure.
After the tutorial, you are offered the chance to play through a wide selection of scenarios including the titular character Nobunaga's birth in 1534, right up until the complete unification of Japan in 1615. Quick history lesson: Oda Nobunaga was an honourable and powerful daimyo warlord that initiated the unification of Japan, dying in 1582 after a coup resulted in his suicide, albeit forced and provoked. Of course, as you play the game, the story of the Warring States period will become clear. The missions follow the history books as best they can, making sure those that are interested in Japan's heritage are fully informed. Simply, if you don't complete the missions, you'll never learn anything.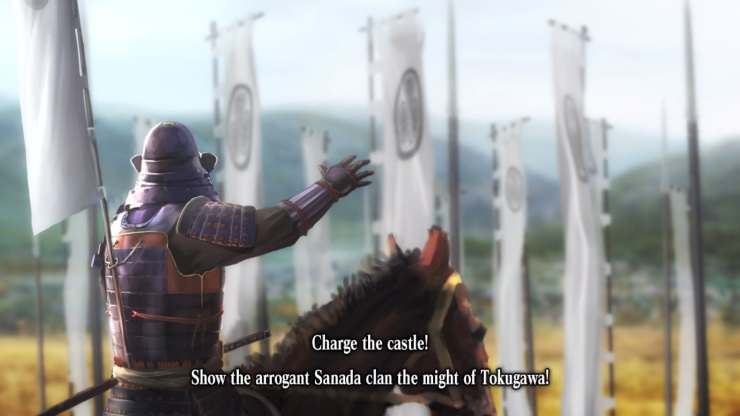 As previously mentioned, the overwhelming nature of the options may put you off before you've even begun the main scenarios. Persevere though and you will be rewarded. No matter what the size of your towns and cities are, you'll need to make sure you have a large army, food for your people and the right resources and equipment to keep your followers happy. A nifty monthly report helps to outline where you're going right and wrong so pay great attention to what it is telling you. You won't get the balance right first time, and if you do then pat yourself on the back! I messed up at least three times before I understood the best way to provide for my people. The joy in Nobunaga's Ambition comes when you finally do get it right. Think logically; without the right trade routes or support from outside factions, you will never succeed. Use all the options at your disposal. Make use of the other tribes by buttering them up with presents or sending your officers to ask for their support. Why not send in someone to entice enemy clan officers to work for you and make the opposition defect to your council? Do what needs to be done, but be smart. That is what you are taught: always think about the bigger picture.
One of the best elements of the game is the combat. Not only does it bring up a different viewpoint, but it gives you a chance to watch the army that you have built up from nothing fight for your honour and the honour of Nobunaga himself. I tried to be there for every battle because I'm anal like that, but you don't always have to. The better the army and more advanced your commanding officers are, the less likely you are to lose; however, being present at every battle means you can watch every order you give mean something. The individual "special move" can be the deciding factor of any battle so make sure you know when best to use it. It all falls under how much of a true leader you are. If you take an interest in every aspect of the game, you are going to get the most out of it. You don't play this game for fun, you play to learn and to win at any cost.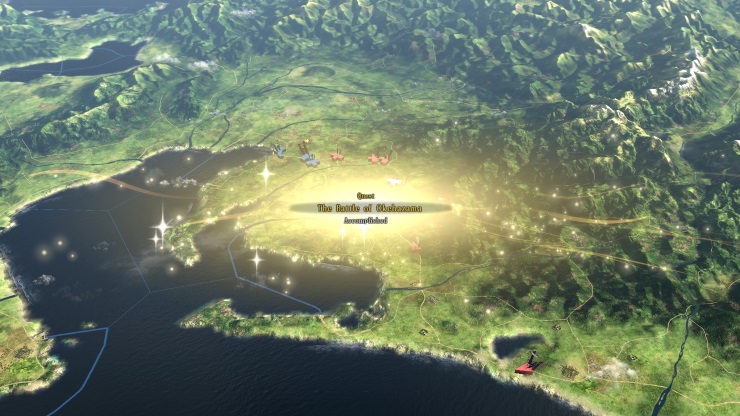 You have plenty of time to make your decisions as well. While you're deciding what your next move may be, you should definitely spend some time looking around the map and taking in the wonderfully designed environments and provinces. It helped me many times to scroll across the map and clear my head – even the greatest rulers needed a break.
Nobunaga's Ambition: Sphere of Influence is a monumental entry into Koei Tecmo's 30-year legacy, and an important step for Real Time Strategy games on the current gen. I'd advise you to play this game if you have absolutely nothing else in your disk drive to get the most enjoyment out of it. Don't buy it on a whim; research previous titles to find out if you'll enjoy it or not. I haven't put nearly enough time into this game to get the absolute best from it. To be able to do so, I believe you're looking at up to over 100 hours of gameplay, so as I said, free yourself up for a month or two and travel back in time to the days of the Warring States.
Review code provided by publisher.
Positives
Rewarding when it clicks.
Great interactive history lesson.
Superbly designed simulation of Japan.
Negatives
Incredibly steep learning curve.
Slow to start with.
Hugely complicated gameplay.
If you have the time, Nobunaga's Ambition is a rewarding and immersive experience; you'll be bathing in its wealth of options and historical depth for months.