Release Date
27th March 2015
RIDE's single-player game is set out as a World Tour, with events arranged broadly according to bike category and down to power, cylinders or age within that. The menus are clear and easy to navigate, with notifications showing you what races you can enter at a glance. Winning races raises your reputation, allowing you to enter Elite races, which gives a sense of progress when the World Tour events are all unlocked as soon as you have a capable bike. There are a pleasing variety of events themselves, which range from your standard races to drag races and head to heads. The latter see you chasing down a rival racer, attempting to get ahead of them before the timer runs out, while drag races – which could be boring – override your settings, meaning you have to perform manual gear shifts, maximising the power of each if you want to win.
Of course the bikes are the true stars, with more than 110 to choose from. These range from Classic Naked bikes up to Pro-circuit racers, and they can all be tinkered with both aesthetically and under the hood. The system is neat even if it isn't very deep – there's a clear "best" option for each part, and it won't take much money to reach. The bikes don't feel massively different within each class, but change class and the difference in speed and handling is noticeable. When you've chosen a ride, there're 15 tracks to take it round, including street circuits and racetracks such as Donnington and Imola. They all feel a little different but built for bikes to go round, with largely sweeping corners, although the French Riviera has a lovely sequence of tight turns to wind around.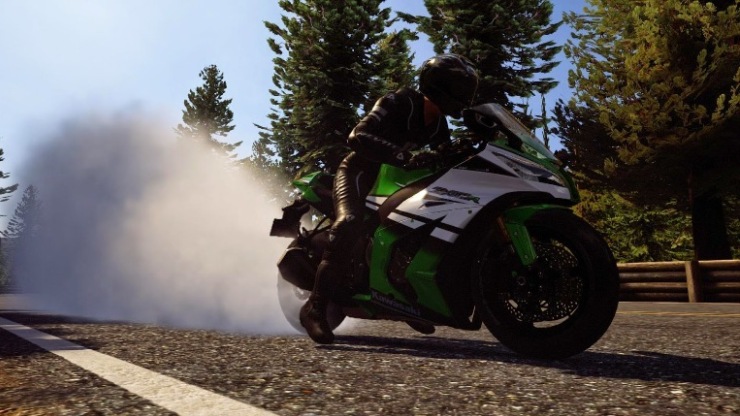 On the track the bikes themselves come alive. Turning is a matter of shifting your weight, which means you have to think about corners further in advance than you would in a car, and when you do commit, the racing line is more important than ever. There are various physics options to choose from, with the tutorial giving you a taste of them all, which can make the weight shifting more or less realistic, depending on your taste. On softer settings it can feel a little arcadey, making for some contact with your opponents, but ramp it up and turning too sharply into a corner will send you flying. All is not lost if you do come unseated though, with a Codemasters-esque rewind system mapped to L1. That said, the rewind is quite short, and the need to turn early into corners means that often you'll just repeat your crash. Luckily you'll respawn a little down the road, but it isn't ideal.
There are other problems as well. Load times are appalling; from the selecting a bike screen to the pre-race setup takes almost a minute, far too long for a PS4 title. Getting the right difficulty setting for the AI is also a challenge. On the default "very easy" I won a race by 7.5 seconds, so I decided to try again on "Easy", with all other settings the same, coming seventh, 6 seconds off the leader. When there's five AI difficulties alongside all the physics and assists settings, that kind of a gap between them is ridiculous.
Explanations can be a little vague too, informing you of a feature only once you've found it yourself. When you first boot up the game, you're asked to make a rider from a selection of faces and hair with a standard black race suit and helmet, and it was a few hours in that I realised you can purchase new gear for your rider.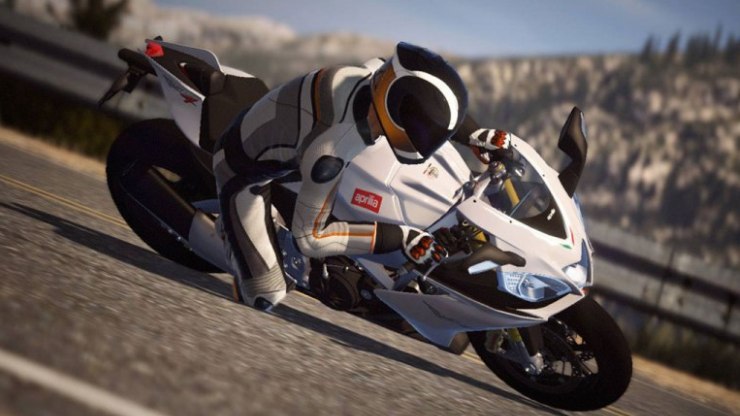 Happily the presentation is all rather nice. While no DriveClub, the bikes are incredibly detailed, as are the riders, and the tracks can look gorgeous if a little static. The background of the World Tour screen looks great as well, your rider in front of his stately home mansion, a really nice change from the trailer park "awesomeness" of some other racers. Even the menus and loading screens are slick, with the latter allowing you to read the history of your current bike in a similar way to Gran Turismo's showroom spiel.
That last comparison probably best sums up RIDE, as it's what it clearly wants to be: Gran Turismo for motorcycles. And the funny thing is it really works. Long loading times and difficulty issues aside, RIDE is an excellent game. The handling model – which does take time to get used to – is fantastic, and the AI will try to out-brake you and jostle for position realistically, and it's all wrapped up in a great looking package. For fans of motorcycles this is a must, but even if you're not you'll find plenty of enjoyment in RIDE.
Review code supplied by publisher.
Positives
Great handling model
Plenty of bikes
Varied events
Negatives
Long loading times
Difficulty issues
Vague explanations
The Gran Turismo of motorbikes.