Razer Naga 2012 Edition Review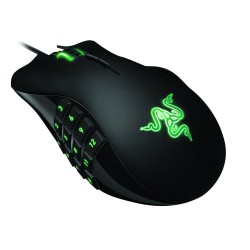 Product: Naga 2012 Edition
Manufacturer: Razer
Razer's Naga products have become instantly recognisable to MMO gamers everywhere. The 17 button mouse was often called "overkill" when it was first released. But it quickly became apparent how useful those extra buttons could be to an MMO gamer – and other gamers too.
The side number-pad buttons are now the Naga's trademark style. These have been the best-in-class mice for MMO gamers since 2009. The 12 button thumb grid is designed to enhance MMO gameplay. From handling your ship's directional shields in Star Trek Online, to controlling the skills bar in World of Warcraft, the buttons are fully customisable. It's hard to imagine playing an MMORPG without them these days.
Unfortunately, the 2012 Edition suffers from the old cliche "if it ain't broke, don't fix it!". Razer made one vital mistake with the latest series of Naga mice, by moving the mouse 4 and mouse 5 buttons to the top/middle of the mouse, directly below the mouse wheel. Razer's website claims "The new Razer Naga features 2 mouse buttons behind the scroll wheel to deliver better ergonomic control as you game", but the original position directly to the left of mouse 1 was so easy to press, it was simply a case of sliding your index finger slightly to the left – it doesn't get much more ergonomic than that. However, this new configuration is far from ergonomic, it's actually physically painful to press mouse 4, and in particular, mouse 5. This is difficult to explain in writing, but take a look at how you use your mouse – the middle finger is used to press mouse 3 or scroll the mouse wheel, but it's practically impossible to move the middle finger down low enough to press mouse 4/5 on the new Nagas, so that means you have to take the index finder off of mouse 1 and move it down and across, in a rather uncomfortable position. Either my hand is not as flexible as most people's, or Razer's R&D team have made a mistake here. Why the marketing team would claim this is in fact more ergonomic is frankly beyond me. It's a real shame, because in effect by upgrading from the original Naga to the 2012 edition I have lost 2 buttons. Mouse 4/5 are backward/forward in most web browsers, in-game they are often used for melee and push-to-talk, too. These are not buttons that will go un-missed.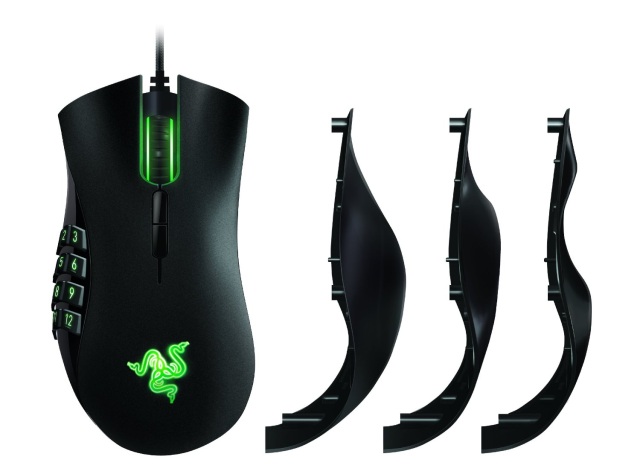 Don't get me wrong, this is still a fantastic mouse, and it's still extremely ergonomic. The shape of this mouse makes it so incredibly comfortable to hold and use for long periods. There are also some improvements in the new series Nagas, including the customisable right-side. The Naga 2012 comes complete with three interchangeable panels, so you can use the mouse with a little-finger rest or without. This seems to be the way all big peripheral companies are heading lately. The more customisation you can offer your customers, the better. After all, we don't all have the same shape/size hands, or play styles.
On the plus side, the software provided with Razer products has improved dramatically over the past few months. With the release of Synapse 2.0, all Razer products share one software installation. All your peripherals are visable and customisable from one simple interface. Not only that, all of these customisations are stored in the cloud. So you can take your accessories with you, plug in, log in and you're away. This is a fantastic idea that works really well.
Another niggle with the Naga 2012 edition is that the glowing light has been changed to green. This is only a niggle because all the other Razer products on my desk are either blue (like the original Naga), or customisable, so that they can be changed to blue. For the Naga 2012 to be glowing green is a bit of an odd choice. Of course you can turn the glowing off, but that isn't really the point. It should be noted that the Naga Epic has selectable glowing colours.
This Naga series is and has always been for right handed users. This is obviously down to the number-pad, it just wouldn't be possible to make this an ambidextrous mouse. If you are left handed though, you may want to check out our review of the Razer Taipan, which also uses two lasers to offer an incredibly high resolution.
Technical Specifications

5600dpi Razer Precision 3.5G Laser Sensor
1000Hz Ultrapolling™ / 1ms response time
200 inches per second max tracking speed
Zero-acoustic Ultraslick™ mouse feet
17 MMO-optimized buttons (including 12 button thumb grid)
Optional MMO-specific software AddOns
Unlimited character profiles with AddOns
Approximate Size : 116 mm / 4.57" (Length) x 70 mm / 2.76" (Width) x 46 mm / 1.81" (Height)
Approximate Weight: 134 g / 0.30 lbs
System Requirements

PC / Mac with USB port
Windows® 7 / Windows Vista® / Windows® XP or Mac OS X (v10.4 and above)
Internet connection (for driver installation)
At least 35MB of hard disk space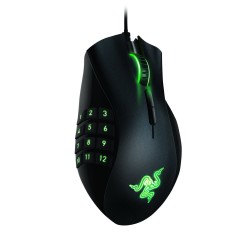 Everyone has their favourite mouse type, it's all down to what mouse feels most comfortable in your hand. For me, that has always been the Naga. I've tried and reviewed a whole bunch of other mice in the past, but the Naga feels the more ergonomic for my hand shape, and the MMO buttons are perfect for me as an MMO gamer. The problem here is that even with all the enhancements of the 2012 edition (including the great interchangeable panels), by moving buttons 4 and 5 they have essentially ruined the experience. Thus taking this mouse from an easy  "would recommend to anyone" to a "would recommend, but with a caveat", and that's such a shame.
Thankfully, the Naga range has expanded somewhat in recent years. There's the Naga Epic which is the only Naga to offer wireless functionality, the Naga Hex which has opted for only 6 numbers on the thumb-pad to offer larger buttons for arena style games, and the Naga Molten, the only Naga in the series to still offer the original mouse 4/5 buttons next to the index finger. The selling point for the Molten, other than the molten-lava effect design, is the custom interface addons for MMO games, allowing users to customise in-game skills to particular buttons on the thumb-pad – handy.
So in summerisation: If you're looking to buy a new gaming mouse, and you're an MMO gamer – Razer Nagas are still the best around, but don't buy the 2012 Edition, grab yourself a Razer Naga Molten.