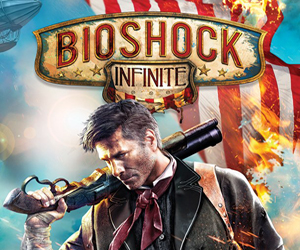 Exactly as you'd expect from one of the best games of the year so far, Irrational Games' BioShock Infinite has topped the UK video game charts in its first week. It's also the 2nd biggest launch of the year.
Gears of War: Judgment and Tomb Raider continue to do well, whilst The Walking Dead: Survival Instinct drops to 14th place, as people have probably gotten wise to it by now. Tiger Woods PGA Tour 14 enters in 8th place, which proves my theory that those games just never let you down.
Luigi's Mansion 2 enters in 5th place, which is great for a single platform, handheld game, whilst LEGO City Undercover enters in 12th.
As always, you can click the name of the game to see our review. Our Army of Two: The Devil's Cartel review is in progress, and we'll bring it to you as soon as we can, in the meantime you can watch our Let's Play of the game, which shows the first 20-odd minutes of the game, here. The game enters in 6th place, though.
TW = This Week
LW = Last Week
UKIE Games Charts©, compiled by GfK Chart-Track