Where do you keep your Ketchup?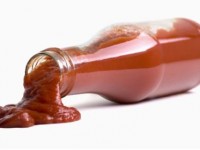 When conducting an interview with the industry elites, we like to think we pose the important questions. Which is why, for the past four years or so, we've always ended an interview with a question that defines character, that truly shows what a person is all about…
Where do they keep their ketchup? In the fridge? Or in the cupboard?
Below is a list of the people we've asked, their responses, and a link to the interview we asked them in. There's probably some missing here, and we'll add more as we conduct more interviews.
The running total is: Fridge 13 – 9 Cupboard
Person, Who they Are | Ketchup | Link
Chris McQuinn, Drinkbox Studios | Cupboard | Podcast
Christian Fonnesbech, Cloud Chamber Director | Fridge | Interview
Marcel Khun, FIFA FUT Producer | Complicated | Interview
Ian Flood, Yacht Club Games | Fridge | Podcast
Eric Osborne, Bungie | Fridge | Interview
Michael Condrey, Sledgehammer Games | Complicated | Interview
John Edwards, Netherrealm Studios | Fridge | Interview
Phil Ring, TT Games | Cupboard | Interview
John Vignocci, Disney | Fridge | Interview
Dax Ginn, Rocksteady | Cupboard | Interview
Dan Pearce, Creator of 10 Second Ninja | Cupboard | Interview
Ricardo Bare, Lead Writer on Dishonored | Fridge | Interview
Darby McDevitt, Lead Writer on Assassin's Creed IV | Neither | Interview
Mark Rubin, Infinity Ward EP | Fridge | Interview
Guillaume de Fondaumiere, Beyond: Two Souls EP | Complicated | Interview
Dan Greenawalt, Creative Director Turn 10 | Fridge | Interview
Tina Palacious, Community Manager Infinity Ward | Cupboard | Interview
Jeffrey Yohalem, Lead Writer at Ubisoft | Fridge | Interview
Simon Read, New Star Games | Cupboard | Interview
Jason Hughes, Producer at Adhesive Games | Cupboard | Interview
Stephen Yee, Producer at SEGA | Cupboard | Interview
James Wright, Producer at Square Enix | Fridge | Interview
David Nathanielsz, Producer at Vicarious Visions | Complicated | Interview
Lena Brenk, Associate Producer, 2K | Fridge | Interview
Simon Flesser, Simogo Games | Complicated | Interview
Glenn Gamble, TWD: Survival Instinct FX Artist | Fridge | Interview
Sebastian Reichert, Creative Producer Dead Island Riptide | Cupboard | Interview
John Mulkey, Aliens Colonial Marines Design Director | Fridge | Interview