Ken Block To Slide Around Battersea Power Station In The Name Of DiRT3

Most of us think that the things we do in video games can't actually be done in real life. For most of us that simple fact is good enough for us not to go out and attempt to kill ourselves attempting something we've only ever managed before in a video game.
Ken Block is not "most of us".
Ken Block, pioneer of the 'Gymkhana' freestyle driving video phenomenon that has delivered over 90 million YouTube views, is taking over London's iconic Battersea Power Station this week and turning it into a massive stunt and obstacle course for his car. The performance, which is being filmed for a forthcoming Gymkhana-style video, aims to recreate a sequence from the highly-anticipated racing video game DiRT 3, which will see players driving Block's own Gymkhana THREE Ford Fiesta around the Battersea Power Station course in the game.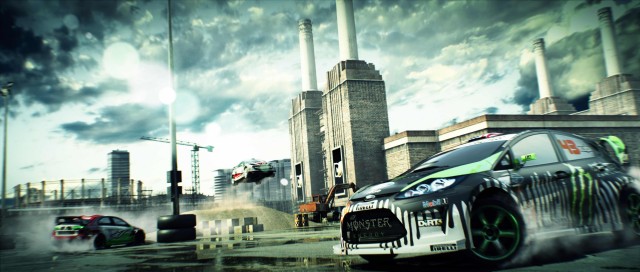 "It's an incredible opportunity and an absolute first for me to run a Gymkhana-style course in the heart of London. Using Battersea Power Station as the venue totally came out of DiRT 3's game design and makes for a brilliant backdrop," says Ken Block. "DiRT 3's proving such an inspiration, and obviously I'm stoked about the game's Gymkhana content. It's the first time where a driving game isn't demanding I drive a specific way, it lets me hoon around the way I want. It's something I've always wanted to be able to do in a game."
In DiRT 3 players will compete at bespoke Gymkhana courses set in and around Battersea Power Station and other global locations. Gamers will see their car control tested to the very limit as they drift, spin-dry and jump their way to stardom in Gymkhana events. Specially created arenas will be packed with props and players will be able to practice their skills, chain together moves, complete challenges or hang out online with friends in this spectacular videogame first. Players will also have the chance to emulate Ken Block and become internet stars themselves by publishing highlights of their best Gymkhana runs to YouTube.
DiRT 3, created by BAFTA Award-winning Codemasters Studios and coming May 24th, is the first video game to feature Gymkhana-style showpiece driving events alongside the series' core racing experiences, such as Rally and Rallycross. Ken Block, who also drives for the Monster World Rally Team, is DiRT 3's technical consultant.