RAGE's Pre-Order Bonuses Detailed
Are you the type of person who likes to pre-order a highly anticipated game as soon as you can? Do you like to get exclusive items for doing so? Well, today is a good day for you.
Today, the guys behind bringing us RAGE have announced that if you pre-order the game, you'll automatically get upgraded to the Anarchy Edition, which adds four downloadable in-game items to your post-apocalyptic arsenal.
In RAGE, the user plays as a member from an Ark (a world-wide movement which took scientists and other significant people, and froze them underground in cryo-pods so they could rebuild Earth) but then the player comes to realize that his Ark has malfunctioned and that he is the only survivor.
This special Anarchy Edition of RAGE will include the following four special items: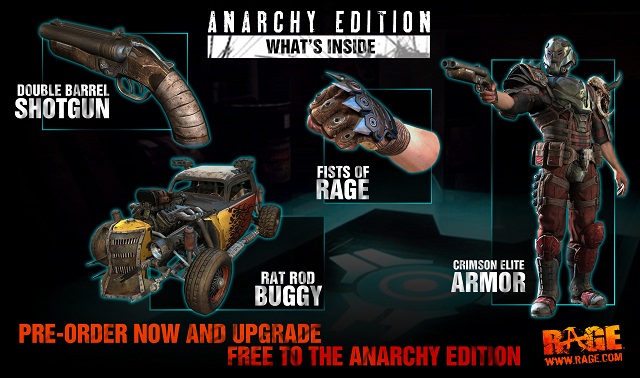 Double Barrel Shotgun
Wasteland settler design and ingenuity! Features compact form factor with plenty of muscle to take out everything from mutants, bandits and maybe even a lone Authority Enforcer.
Crimson Elite Armour
This is the most sought-after armour in the wasteland. Constructed of hardened plate armour, this gear was created specifically to withstand the toughest wasteland battles. It also features larger component storage, allowing you to carry more parts that will aid in the fabrication of advanced engineering items.
Fists of Rage
A classic weapon for close quarters combat. When you've run out of ammunition and fists are the only option, these razor sharp knuckle blades will give you that combat edge.
Rat Rod Buggy
Improve your odds of survival in the wasteland with this vehicle that comes equipped with a front smash guard and durable protection.
RAGE is due to be released in the UK on the 16th September 2011. The pre-order bonuses are currently confirmed to be happening at Amazon, GAME and HMV.