See Rabbids come to life in New Raving Rabbids: Alive & Kicking Trailer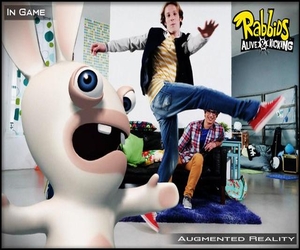 The latest Raving Rabbids game that is due to be released by Ubisoft next month will be exclusively available on Xbox 360, having been designed from the ground up to make use of the Kinect device. The game, entitled Rabbids: Alive & Kicking features a whole host of brand new party games that will test players to work both individually and as part of a team, in a variety of different physical challenges.
In the video, we are shown variations upon the old whack-a-mole arcade game and Air Guitar, amongst other activities designed to make you look as silly as possible! As the game has been made with Kinect in mind at all times, the games look unlike any other party game we have ever played, and the title should offer some variety for those looking for a good laugh with a bunch of friends.
Check out the video below:
Raving Rabbids: Alive & Kicking is set for release on November 4th and will be available exclusively for Microsoft Kinect on Xbox 360.