Rabbids are Loose in your Living Room in Alive & Kicking Launch Trailer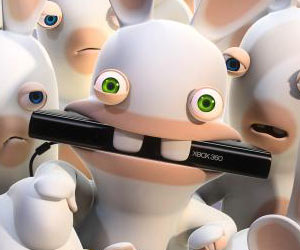 The latest installment in the Rayman spin-off Raving Rabbids series by Ubisoft – Rabbids: Alive & Kicking – is released at retail today. To mark the occasion, the Ubisoft team have also released a new launch trailer for the game, which plays on the idea of Augmented Reality, by putting the Rabbids themselves into a real living room.
We get a glimpse at a few of the different game modes and varieties that will be on offer in the title such as typically Rabbids-like spins on; Air Guitar, Bob-sledding, Hole in the Wall and Whack-a-rat. The game looks as insane as you might imagine from a title starring the white rabbitty creatures – and Ubisoft have clearly reverted the series back to its party game roots – which is by no means a bad thing. It looks like there will be many different ways to make yourself look like a fool on offer in the title – which we can all appreciate.
Check out the launch video below:
Raving Rabbids: Alive & Kicking is set for release on November 4th and will be available exclusively for Microsoft Kinect on Xbox 360. Look out for our official GodisaGeek.com review on the site soon.