New Saints Row: The Third Trailer takes a pot-shot at Battlefield 3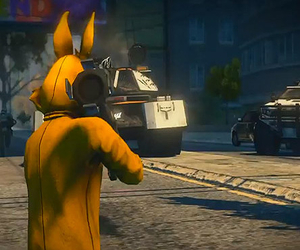 With Saints Row: The Third due to hit retail on November 18th, the development team at Volition have showed their typical flair for parody with the release of a new trailer for the game, that is obviously inspired by the Battlefield 3 trailer that has been circling for quite some time.
The team has a history of parody, as when Saints Row 2 was released, they poked fun at fellow sandbox game Grand Theft Auto IV in a series of short videos. Volition based their point of view around the fact that their rival wasn't fun enough and involved too many aspects that closely mirrored everyday life. Saints Row is not a series for those who like their games gritty and serious – it is the anti-sandbox game to rival the more realistic antics seen in the last few GTA titles, and looks set to remain that way.
Back in June we got our first look at actual gameplay footage from the title and the game seemed to be chock-full of all the usual little silly features and options that fans of the series have become accustomed to. The title is looking better than ever in terms of visuals, and we have been promised more weapons and vehicles and a better variety of missions than ever before. This is one to keep an eye on for those of you who like your action over-the-top and super-charged, and there isn't long left to wait.
Saints Row: The Third is due for release on November 18th 2011 and it will be available for PC, PlayStation 3 and Xbox 360. Those who pre-order the game will get the Professor Genki add-on pack for free.