Kinect Sports: Season Two Smashes Out New DLC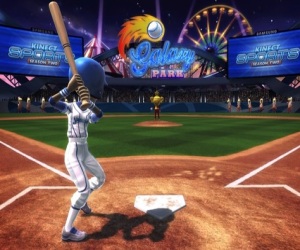 Have you been enjoying Kinect Sports: Season Two and now ready for some more sporting action with your Kinect? Well fret not my friends, as a new add-on for this great title (so good we gave it a solid 8/10 in our review) is available today! Challenge Pack #1 which is available for the best price of all (Free!), is sponsored by Braun and offers gamers six new Challenge Play activities, aiding eager athletes to hone their abilities on the field, green, court, slopes and even the dart board!
These new sports will be available in the Challenge Play and Quick Play modes and will allow you to challenge your family and friends at home, or even issue a challenge over Xbox LIVE for your mates to challenge at a later date. These new additions are as follows:
Darts: Smart Shot – Finding darts to easy? Well as more of a challenge you compete against the clock as well as solving mathematical puzzles!
Golf: Champion Chip – Improve your short game, with challenging surfaces, distances, and natural obstacles trying to ruin a perfectly good game of golf!
Tennis: Rapid Returner – If you fancy getting a sweat on, then this is for you as various mascots fire a variety of cheeky shots at you with increasing speeds to every shot in your arsenal.
Skiing: Cool Ringings – With five different course to choose from, you will be blasting down the slopes at high speeds whilst dodging mascots and ringing cowbells for extra points.
Baseball: Frantic Fielder – Bored of standing there waiting for a catch, don't worry as a constant barrage of balls will be coming at you! So keep your wits about you as three strikes and you're out!
American Football: Crazy Kicker – Careful you don't put your foot through your TV as you'll be attempting to make a 40-yard field goal. With wind and distance to think about, this will not be as easy as it seems but if you do make the shot, be prepared for the crowd to go ballistic!
So if you're wanting to play this new DLC, then head over to the Xbox LIVE Marketplace and get downloading! If you are still thinking about purchasing this title, then let God is a Geek.com help you decide with our review. In the meantime, happy gaming!
Kinect Sports: Season Two is available to buy now for Xbox 360 only with Kinect. Challenge Pack #1 is available to download on Xbox LIVE Marketplace now.