New Xbox 360 Dashboard Update is given Launch Date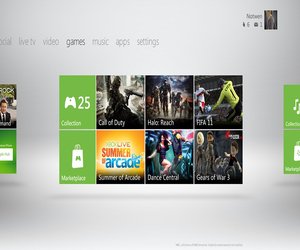 At the start of last month, the news that had been rumoured for a long time – that certain media outlets such as BBC iPlayer and Youtube were coming to Xbox 360 – was officially announced. Many other media partners will be available atround the world, but now the new update has been given an official launch date – December 6th.
On that day, the free update – available to all Xbox 360 users – will go live, and it includes a newly designed Dashboard interface (which mirrors the Windows Phone and Windows PC designs), More Kinect Voice control features and new Entertainment channels. With the updates and the Kinect sensor, players will be able to tell their console what they want to watch or browse, without having to pick up a control pad at all.
Starting from the launch day, and being expanded upon throughout 2012, Microsoft will be adding applications and channels for accessing popular media from around the world. For the first time, Xbox 360 gamers will be able to browse the latest Youtube videos, catch up on their favourite Channel 4 programmes on 4OD, or access movies on demand from the Dashboard. And finally, cloud saving will be added for use by Xbox LIVE Gold members – both for data and LIVE profiles and social media integration will be included – such as Facebook linking and Beacons – a new feature where players can highlight what they are doing, in order to let their friends now, quickly and easily.
the Dashboard has been in public testing for some time, and there is now not long to wait for the rest of us – I personally can't wait to watch Hollyoaks on my Xbox – constantly, all day long.
The new Dashboard update will be available on Xbox LIVE starting 6th December.