Kinect Sports: Season Two Gets Nine Extra Holes of Golf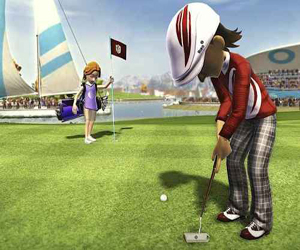 If you're looking for more things to do with your kinect that don't involve the words, "Xbox, bing, pornography", you're in luck! Coming on the 20th December, Rare & Big Park have announced the Maple Lakes Golf Pack add on for Kinect Sports: Season Two. It will be nine extra holes of virtual golf that will cost you 400 Microsoft Points via Xbox LIVE.
This "back 9" takes in forts, marinas, causeways and coves, with hidden routes and hole-in-one opportunities nestled in the acres of fresh content. The Golf Pack is available in all modes, and includes achievements and nine more challenges to send to friends both online and offline in the Challenge Play mode on Xbox LIVE.
Kinect Sports: Season Two is also getting an update that adds Challenge Play email notifications and Facebook results posts through to video chat over Xbox LIVE matches. Microsoft look to be supporting the game big time with new DLC coming in mid-January called, Midnight Mountain Ski Pack and new add ons coming in every month of Spring 2012 that will feature some free content.
This is what you need for Christmas. Nana & Grandad are over for the turkey on Christmas Day and you want to show them this thing where, you are the controller. They'll be so mesmerised by it that, when they swing their virtual golf club, they won't even feel the slipped disk in their back.