Ezio Goes Travelling To The Mediterranean In New Assassin's Creed Map Pack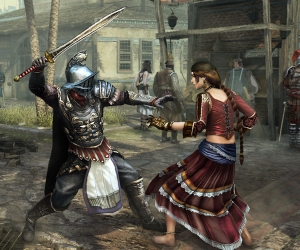 Ezio, and his many deadly friends are taking a trip to the Mediterranean on January 24th,  with a new multiplayer map pack for Assassin's Creed: Revelations.
If you tire of killing your friends and enemies in the same old towns, why not take a break with the Mediterranean Traveller Pack; six multiplayer maps that take Assassin's Creed: Revelation's multiplayer into new (and familiar) locations.
This new pack offers the following exciting destinations, where you can:
Make a deadly pilgrimage to the Holy city of Jerusalem
Take in the sights of beautiful Constantinople
Slay your foes in the district of Dyer
Plus, you could always make an excursion to the following maps from Assassin's Creed: Brotherhood:
Return to the hustle and bustle of Firenze
Enjoy the beautiful mountains of San Donato
Party at Siera's evening carnival
These destinations can be yours from January 24th, for both Xbox 360 (800 Microsoft Points) & PlayStation 3 ($9.99).
For more information on Assassin's Creed Revelations, check out our review.