Nintendo Adds Coral Pink & Ice White to the 3DS Rainbow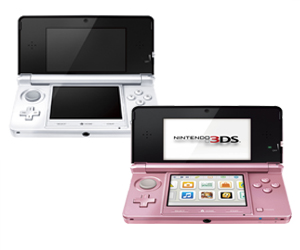 Have you been that guy/girl who's been holding out on getting the 3DS because you just don't like the colours?…Probably not, surely no one is that pretentious. Regardless, from the 10th of February Nintendo are adding more colour to their range of 3DS' with two new ones; Coral Pink and Ice White.
These versions were previously only included in 3DS bundles with Nintendogs + Cats and Super Mario 3D Land respectively. Ice White and Coral Pink join the launch colours of Cosmos Black and Aqua Blue, as well as Metallic Red which first appeared on shelves in September of last year. I'm still hoping for Monoxide Green to be announced.